Monday, November 6th, 2017
Record repeat
Watcke, Wildcats run away with state title
By Colin Foster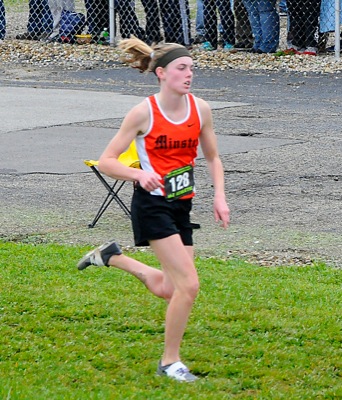 HEBRON - Minster girls' cross country coach Jessie Magoto didn't expect her team to top last year's performance at the Division III state cross country meet.
"I know they work hard together. I know they feed off each other," stated Magoto after Saturday's race at National Trail Raceway in Hebron. "But you just do not know in cross country. Those teams that you don't race all year, it's not the times we're with in our league all the time. You can look at times, but you can really throw them out the door when the time comes."
The 2016 Wildcats had been the definition of domination at the state meet. But when the time came on Saturday, the 2017 Wildcats redefined domination.
Emma Watcke ran away from the pack to win the individual title, and Minster outdid its record total of 38 points from a year ago with a new record-low of 34 points to repeat as state champs and win the 11th state cross country girls' title in program history.
"The whole team did really great today," Watcke said. "We performed when we needed to."
"Coming into this, I knew we were going to do great no matter what," said Cassie Francis, who made her fourth appearance on the state stage. "It was going to be really hard to get that score from last year, because that was just something we didn't expect. We just went crazy. The fact that this team dropped it even lower, my mind is just blown."
Perhaps equally mind blowing was the fact that Minster had five All-Ohioans - Watcke, Gwendolyn Meiring, Kaitlynn Albers, Mackenzie Bohman and Ella Boate.
The Minster crowd chanted Watcke's name as she raced to the finish line. She outdistanced herself from Grand Valley's Grace Steimile in the final half-mile to win the title by a margin of 18:38.4-18:52.1 The sophomore became a two-time All-Ohioan in cross country and also won Minster's first individual title since Sunni Olding in 2003.
"It's an awesome feeling just to see all the hard work pay off that I put in all year," Watcke said. "I'm so grateful for such a great community that supports the team so much."
"She's smart," Magoto said. "She's patient. She knows that when it's time to let the hammer go, she does."
Magoto stood nervously at the two-mile mark, fidgeting as she awaited for the lead pack to pass through.
She had no need to be nervous.
Soon, Watcke, Meiring, Albers and Bohman rolled through in the lead pack. Then came the fifth runner, Boate, seconds later.
Minster was well on its way to adding another title to its always-growing trophy case.
Meiring placed fourth (19:03.0), Albers became a two-time All-Ohioan with a ninth-place finish (19:12.6), Bohman was 13th (19:15.0) and Boate 22nd (19:26.5). Francis took 47th (20:08.5) and Madeline Magoto was 50th (20:14.5).
"There would be no way we could do this without all of our teammates," Meiring said. "I run for the girls on the team. When I see them running next to me or up in front of me, I just pull through it and stay with them. It helps me go on. I'm not thinking about the pain. I'm thinking about how we can be better as a team."
Saturday was supposed to be a battle between Minster and Mount Gilead. It wasn't even close. The Wildcats were 97 points better than Gilead (131 points). McDonald was third (138).
Francis smiled as tears ran down her face on the podium, hoisting the championship trophy as a sea of orange and black roared in approval.
"Those were tears of joy," Francis said.
And the Wildcats expect another run at a state crown in the spring.
"We were joking that track starts tomorrow," Francis said. "So we're going to get a little burger and fries and ice cream tonight and get ready for track tomorrow."
St. Henry places 13th
The St. Henry girls scored 325 points to finish 13th in their fifth straight trip to state.
Ashely Bruns led the Redskins (65th, 20:25.5). She was followed by Katie Kunkler (68th, 20:27.1), Vannessa Goewert (119th, 211:16.7), Olivia Hemmelgarn (129th, 21:27.3), Alexis Heath (132, 21:31.6), Erin Clune (135th, 21:33.4) and Brooke Speck (155th, 22:17.7).
"We didn't finish quite where we wanted to," St. Henry coach Angie Wendel said. "We were shooting for eighth or ninth and got 13th. But the girls seem happy with what they ran. They left it all out there. We can't complain about that. We're looking to improve next season. We've got mostly everybody back."
Versailles, the third MAC team in the field, placed 11th with a total of 321.
Individual Performers
The goal is clear for Marion Local's Kelsey Broering: get on the podium.
The sophomore nearly accomplished that on Saturday.
Making her second appearance in the Division III competition, Broering placed 30th in a time of 19:46.3
"My strategy was to try to keep up with Minster and to run with the people I usually run with," she said.
Fort Recovery's Chloe Will made her first trip to Hebron and placed 117th with a mark of 21:14.6.
BOYS
St. Henry's Devin Huelskamp is referred to by his teammates and coaches as "Speedo."
Speedo ran the speediest race of his career on Saturday.
Huelskamp beat his best time by three seconds, running a 16:29.0 to earn 22nd in the Division III boys' race.
"I just tend to start out at a steady pace at the beginning and that last mile I usually try to keep enough to finish stronger than everybody else," Huelskamp said.
"He was shooting for podium, maybe 15th or 16th," Wendel said. "He ended up 22nd, so he was right off the podium. He ran his race. He got boxed in a little bit, but from the mile to the two-mile, he moved up 30 spots. From the two-mile to the finish, he moved up 22 spots. From the 400 (meter mark), he moved up six spots. He ran a great race. He ran his race."
The Redskins, making their 10th trip to state in 11 years, placed 16th as a team with 341 points.
Following Huelskamp were Braydon Hoying (93rd, 17:27.0), Blake Ontrop (95th, 17:29.3), Brandon Dues (147th, 18:24.0), Seth Brookhart (156th, 18:35.2), Matt Mescher (164th, 18:52.8) and Kevin Meier (178th, 19:42.8).
"We've been battling some sickness and injuries. We were projected 16th coming in and we finished 16th. I'm actually really happy with that."
"I'm just proud that we keep making it back here every year," Huelskamp. "Just making it here is a big accomplishment in itself. Doing it a number of years in a row is just amazing.
Larry Topp's Minster Wildcats finished 18th with a total of 422 points.
Jon Albers' 109th-place finish (17:37.1) was the best for the Wildcats. Rounding out the lineup for the MAC-champion Wildcats were Luke Barga (114th, 17:49.1), Andrew Broering (128th, 17:56.6), Carter Pohl (138th, 18:16.3), Ryan Cavanaugh (141st, 18:17.9), Lawrence Hernandez (168th, 18:56.7) and Aaron Huwer (183rd, 21:45.0).
"I guess we were kind of limping in here," Topp said. "People were saying that they were feeling pretty good, so we hoped we could come out a little better than we did. But the kids gave it the best they had and that's all I ever ask. I'm very proud of the ones who had the upper respiratory (infections), the ones who had those sore calves who came out and did their best."
East Canton was the winning team with a total of 120. McDonald was second (140 points) and Columbus Academy took third (144). The individual winner was Colonel Crawford's Chad Johnson (15:33.3).
Individual Performers
Parkway duo Kyle Roth and Matt Gaerke both competed in the Division III race. Roth took 64th (17:04.9) and Gaerke was 11th (17:38.4).
Versailles' Joe Spitzer earned fifth (16:01.9) in the Division II race.

Video:
Before the cross country got under way, The Daily Standard
interviewed the Minster cross country team
.