Monday, November 6th, 2017
Tornadoes hit area, 8 hurt
Celina businesses sustain heavy damage
By Daily Standard Staff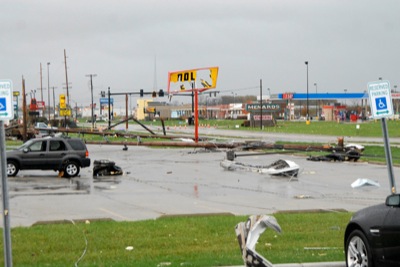 By WILLIAM KINCAID and TOM STANKARD
wkincaid@dailystandard.com

MERCER COUNTY - Two tornadoes touched down in Mercer County on Sunday afternoon as storms wreaked havoc on businesses in eastern Celina and agricultural buildings in Washington Township and caused eight non-life-threatening injuries, local officials said.
Storms moving through Mercer County had started in Indiana, entering the county near St. Anthony and blew into Celina.
Celina Police Chief Tom Wale said in a news release that emergency sirens sounded in the city after 2:10 p.m.
A tornado reportedly entered the city from the southwest, causing damage to a home along Lakeshore Drive. The tornado then crossed the lake before inflicting damage to the Wendy's restaurant, Lakeshore Auto Sales and a few more residences near East Market Street, the release stated.
Mercer County EMS Director Mike Robbins said one tornado-producing storm hit Celina sometime around 2:20 p.m., inflicting structural damage to some buildings on East Livingston Street and spraying broken glass and other debris.
Damaging winds continued across Market Street, Livingston Street, Grand Lake Road and Havemann Road, impacting buildings, businesses and trees.
As the tornado continued to the northeast, Wale reported it caused severe damage to Crown Equipment Corp. Fire chief Doug Wolters noted the south and east side of the complex sustained significant damage. Company officials are discussing how to deal with the damage, he said.
Dollar General and several other businesses along Havemann Road including C-Town Wings and Ruler Foods were seriously damaged, Robbins said.
No deaths were reported due to this storm, Wale said. However, he said in the release that eight injured people within the city were treated by Emergency Medical Service members from Celina, Coldwater and Rockford. Four of the injured were transported to area hospitals with non-life-threatening injuries, Wolters noted.
Celina police and firefighters responded with all available personnel both on and off duty, Wale noted. Damaged buildings were searched for any casualties as well as gas and electrical hazards. Also assisting in the effort were first responders from Montezuma, Rockford, Mendon and Chickasaw fire departments, he said in the release.
A vehicle traveling across the overpass on State Route 29 near Havemann Road was reportedly struck by a utility pole. The occupants were advised to remain in the vehicle, Wolters said. He added that if they had gotten out, they could have been electrocuted. They remained in their vehicle for at least 30 minutes. Wolters confirmed they suffered only minor injuries and refused transport to the hospital.
A second tornado reportedly touched down in western Mercer County in Washington Township near St. Anthony, Pine and Rauh roads, Robbins said, noting a home and numerous agricultural buildings were heavily damaged. The storm entered the county near St. Anthony and continued to the northeast past Wabash and across State Route 29.
The National Weather Service office in Wilmington was expected to dispatch two teams to Mercer County today to survey damage and officially confirm the tornadoes, Robbins said.
Celina Mayor Jeff Hazel said he had signed a state-of-disaster proclamation at 8 p.m. Sunday.
"That will open us up for funding from the Small Business Administration," Hazel told the newspaper this morning.
The proclamation may allow for small businesses to tap low-interest loans and local governments to seek reimbursement for emergency services, Hazel said.
He and state Rep. Keith Faber, R-Celina, both responded to the areas struck by the tornadoes. Faber also arranged for additional propane tanks to keep the Celina Police Command Center running through the night, Wale said.
The city experienced widespread electrical outages due to numerous downed power lines and a major transmission line, Hazel said.
But after DP&L rerouted power through Coldwater, 70 percent of the city's power was restored sometime Sunday night, he said.
Hazel this morning said about 75 percent of the city's power had been restored.
Also, city crews worked through the night to clear the streets of downed power lines and trees.
City service department employees including electric, street and water are working hard to repair damages, Wale said.
Celina City Schools closed for the school day today due to the loss of power. Superintendent Ken Schmiesing said none of the school buildings had been damaged. Power has been restored at each building, allowing the staff to save the food in the freezers and coolers.
A performance of "A Seussified Christmas Carol" was underway at the Education Complex during the storm, Schmiesing said. Attendees reportedly huddled in the hallway for safety. Everyone at the complex was safe, he added.
"Our thoughts and prayers go out to those injured and impacted by the storm," he said.
Police officials urge people to stay away from affected areas.
"As tempting as it is to go look, the additional traffic causes serious issues for people trying to get utilities on, roads open and debris cleaned up. Please give us a couple days to make it safe for everyone. We are blessed with low casualties and no fatalities, help us keep it that way," Wale said.
St. Marys had limited damage, most of which came from rain and wind after the initial storm had passed.
Safety service director Greg Foxhoven said the city's electrical department worked through the night and into the morning to restore service to about 50 homes. Fallen limbs and a few snapped-off electric poles had disrupted service.
Foxhoven also reported that one downtown building had sustained roof damage. At press time this morning, crews were finishing up some pole replacement and pumping water out of areas in the southeast portion of the city where flooding is often a problem during heavy rains.
Other coverage:
Photo album of damage
Interactive map of tornado paths
Video of damage