Tuesday, November 7th, 2017
Tornado recovery continues
Officials set winds at 120 mph
By Daily Standard Staff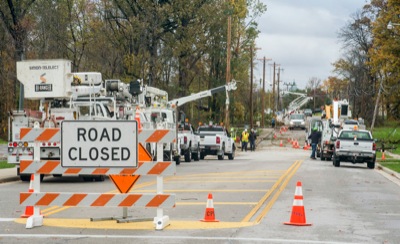 By WILLIAM KINCAID and TOM STANKARD
newsdept@dailystandard.com

MERCER COUNTY - Strong storms that swept through Mercer County on Sunday afternoon and left a trail of destruction produced two EF2 tornadoes packing wind speeds as high as 120 mph, the National Weather Service of Wilmington confirmed on Monday afternoon.
Survey teams determined tornadoes had touched down in western Mercer County and Celina.
The tornado path surveyed in western Mercer County "is the tail-end of a long-track tornado that moved out of Jay County, Indiana," the report states. The tornado crossed into Mercer County near the intersection of St. Anthony Road and County Road 235. It reportedly was on the ground from 2:18 to 2:30 p.m.
"The tornado traveled northeast for just more than 8 miles before terminating in a wooded area north of Carmel Church Road and west of Now Road," the report states. "A few pieces of light debris were carried slightly further to the northeast, but the tornado is not believed to have been on the ground east of Now Road."
The vast majority of the surveyed tornado path contained damage "consistent with winds of 60-100 mph, including scattered tree damage, significant damage or destruction of outbuildings and minor damage to well-built homes."
A tornado also was confirmed to have touched down in Celina from 2:40 to 2:49 p.m.
"Law enforcement observed a funnel cloud near the intersection of Main Street and Schunk Road," the report states. "Just to the northeast of this report is where it appears the tornado first touched down, where multiple tree limbs were knocked down between Main Street and West Bank Road."
The tornado also moved across East Market Street, Grand Lake Road and Haveman Road.
In the aftermath of the storm, local officials held a joint news conference on Monday at the Celina Police Mobile Emergency Operations Center.
Standing in front of the wreckage caused by a tornado that had swept along Havemann Road, Mercer County Sheriff Jeff Grey said the tornado that hit western Mercer County had destroyed several farms.
But, the nice thing about living in a small county, he said, is "all the farmers are coming with their equipment to help get things cleaned up."
Power in the unincorporated areas has been nearly completely restored, he said.
Midwest Electric had about 1,000 customers without power during the height of the storm, he said. At the time of the noon conference, he said only five remained without power. Meanwhile, DP&L had about 2,000 without power at the height of the storm, he said, and added three were without power at the time of the conference.
Celina Mayor Jeff Hazel this morning said 95 percent of power has been restored in the city. The remaining homes and businesses capable of using electricity should be back online by tonight, he said.
Through mutual-aid agreements with American Municipal Power, a nonprofit wholesale power supplier and service provider, crews from Wapakoneta, Minster, St. Marys, New Bremen and Piqua arrived on Sunday and Monday to help city employees restore power, Hazel noted.
Also, DP&L crews arrived on Monday to repair high voltage lines, he said.
Grand Lake Road between East Wayne and East Livingston streets and Havemann Road between Grand Lake Road and Irmscher Boulevard will continue to be closed today for safety.
"We've got restaurants down, commercial and retail down. It blew out a lot of windows and roofs," Hazel said at the news conference while describing the damage inflicted upon businesses on Havemann Road. "We are being told it should be a few weeks before locations with less damage might be back open for business."
A few houses were damaged by the tornado, he added. However, Hazel was grateful to report that the eight people injured had suffered only non-life-threatening injuries.
"Things can be rebuilt, but people are the critical elements," he said.
Gas lines had to be cut in this area, Hazel said. Before they can be turned back on, he said each line must be inspected to ensure it is safe and has no chance to spark.
In the aftermath, the city has received tremendous help from the Ohio State Highway Patrol and the Mercer County Sheriff's Office, Hazel noted. Along with them, the state and local emergency management agencies have been using drones to assess all the damages.
"I think people can be rest assured we are doing everything we can," he urged,.
People could be seen cleaning debris in the parking lot on Havemann Road.
"We have an awesome community, and I'm not just saying that because I'm mayor. The outpouring of people wanting to help makes us a strong community."
Hazel said he had signed a state-of-disaster proclamation at 8 p.m. Sunday to try to seek funding through the federal Small Business Administration.
However, Mercer County EMA Director Mike Robbins said he and others are still looking into which programs may be open to county residents, he told the newspaper this morning. Any form of financial assistance likely would come through low-interest loans, he pointed out.