Tuesday, November 7th, 2017
In just seconds, twister destroys area family's home
By Tom Stankard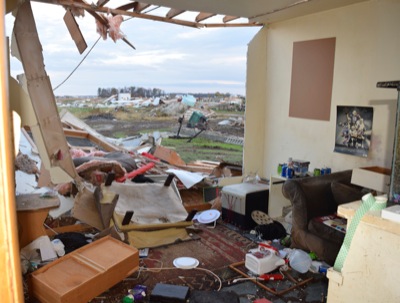 As Cheryl Martinez and her family walked upstairs from their basement on Sunday, they were shocked by the extent of the damage to their St. Anthony home after a twister had swept through the area.
Martinez, her two sons and one daughter, along with her grandson, were inside their home in the 5000 block of State Route 49 when the tornado came roaring through.
She was asleep when her daughter, Yuvana Melendez, 21, warned her a tornado was coming their way, Martinez recalled.
Martinez quickly went to get her grandson, Daniel Sanchez Jr., 9, out of his room and into the basement.
While doing so, Martinez said the wind knocked her down in the kitchen. She pulled Daniel down with her.
Then, her older son, Michael Sanchez, 26, jumped on top of them because "everything was getting ripped off of the house," she said.
Luckily, her other son, Anthony Martinez, 20, was already in the basement, and they managed to safely join him, she said. All five emerged from the scare uninjured.
"It was really quick. It lasted like 30 seconds to a minute," Martinez said.
When it was safe, they walked upstairs and saw the scale of the wreckage.
Walking through the wreckage in her home on Monday, she pointed out where the twister had torn off the roof, along with the living room walls and a wall in a bedroom.
"Pretty much everything is gone," she said.
Elsewhere in the house, one of the cabinets fell from the kitchen ceiling and loose items were flung onto the floor throughout the house.
Down the hall littered with glass and debris, the other rooms sustained additional damage, she said. In the basement, heavy rain caused severe water damage. Outside, the tornado demolished the single-car garage, leaving behind nothing but rubble.
The family had been living there for seven years, Martinez noted. Family and friends stopped by throughout the day to help clean up and try to "pick through and see if any pictures and things like that could be salvaged."
"Some things can be salvaged, but not a whole lot," she said. "All the pictures I have of my kids are lying there wet and destroyed. Stuff from their bedrooms and the furniture are gone."
A co-worker at JR Manufacturing in Fort Recovery offered Martinez and her family a place to stay for the time being, she pointed out. Moving forward, Martinez said she and her family have begun looking for a new home.