Wednesday, November 22nd, 2017
Firefighters hope for a quiet Thanksgiving meal
By Tom Millhouse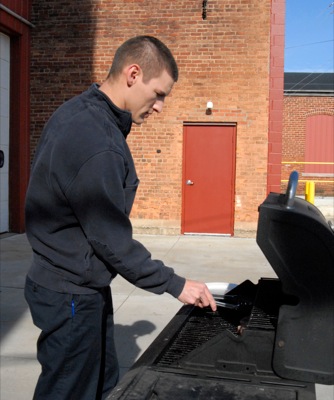 CELINA - When area residents gather with their families on Thursday for a Thanksgiving feast, Celina firefighter/paramedic Mitch Leugers and his second family will be enjoying a holiday meal he prepared.
At least they hope they have time to savor the turkey, mashed potatoes and other holiday staples Leugers has on the menu. When it comes to meal time, firefighters never know if they will get a call dispatching them to a fire or emergency medical services run.
A case in point, Leugers, who at 25 is the youngest member of his five-person crew, on Friday was demonstrating the finer points of grilling eight boneless pork chops, which would be the firefighters' lunch, when the alarm sounded.
Leugers quickly apologized, shut off the grill and in a flash was in the ambulance.
Leugers shares the department's cooking duties with other members of his crew but is responsible for the holiday meal. He said the menu for Thanksgiving will be much the same as the one his family will be enjoying at home.
"We'll have turkey breast, mashed potatoes and gravy and corn, the usual Thanksgiving meal," he said.
One item missing from the traditional array will be dressing - or stuffing.
"A couple of guys don't care for it," he said, noting he tries to cook foods that everyone likes. "We don't cook a whole turkey because of how long it takes."
They will also have a dessert, although Leugers said he hadn't decided yet what it would be. He noted that during the holidays, people drop off pies, cookies and other treats for the firefighters to enjoy.
A four-year veteran of the department, Leugers said he had some cooking experience prior to taking the job.
"When I was in high school, during the summer I cooked for my brother and myself," he said. "I cooked at home because my Mom and Dad worked 8 to 5."
He also handled cooking duties while in college.
In addition to serving meals that everyone likes, another prerequisite for firehouse cooking is keeping it simple.
"You never know when you will get a call, usually the quicker the better," he said. "Prep time is the big thing, we can't make anything that takes an hour or an hour and a half."
The station's grill gets a considerable workout when the weather is fit.
"We grill any time we can to get outside and enjoy the weather," he said. "Anything on the grill is a winner so we do burgers, chicken and steak if we have extra money in the food fund."
He did note that grilling is not without occasional snags such as when flames flare up while preparing meats.
"Sometimes we have had to use the hose to put out the grill," he said. "We are pretty good about helping each other out."
Every two weeks the firefighters on each shift contribute equally into the food fund, Leugers said. Each shift has its own refrigerator, and the firefighters are responsible for buying food for their meals.
He said the lunch menu isn't heavy fare.
"We keep it light because we have training in the afternoon," he said.
"It's kind of fun. You can make what you want," he added. "The guys aren't very picky."
While much of the fare is of the meat and potatoes variety, Leugers said they also like stir-fry dishes and tacos.
"We try to eat healthier than they used to," he said. "We don't have greasier foods or french fries all the time. Heart attacks are the No. 1 cause of death for firefighters."
Leugers also hones his cooking skills at home with the help of his fiancee, Elizabeth Laffin.
"She's a good cook," he said.
With chicken being a staple at the firehouse, it's fitting that one of Leugers' favorite recipes is a poultry dish.

Ranch Parmesan chicken:
• 6 boneless, skinless chicken breasts
• 1 cup dry breadcrumbs (even better, use panko breadcrumbs)
• 1/4 to 1/3 cup Parmesan cheese
• 1 teaspoon seasoning salt
• 1/2-1 teaspoon ground black pepper
• 1/2-1 teaspoon garlic powder
• 1 cup prepared ranch salad dressing (bottled salad dressing might require a bit more)
• 1/4 cup melted butter

Set oven rack to its lowest position and set the oven to 400 degrees. In a shallow bowl, mix together the dry breadcrumbs with Parmesan cheese, seasoned salt, black pepper and garlic powder. Dip the chicken into the ranch dressing to coat both sides and allow any excess to drip off. Coat in the breadcrumb mixture.
Place in a single layer on a greased baking sheet or line with non-stick foil. Do not bake in a smaller baking dish or the bottom of the chicken will be soggy. Lightly drizzle the melted butter over each breast. For a low-fat option, omit the butter or use a diet alternative. If desired, sprinkle black pepper over the chicken pieces.
Bake uncovered for about 30-35 minutes until the chicken is cooked. Serves six.