Saturday, December 30th, 2017
Promising continuity
Augsburger says he'll keep personal approach
By Ed Gebert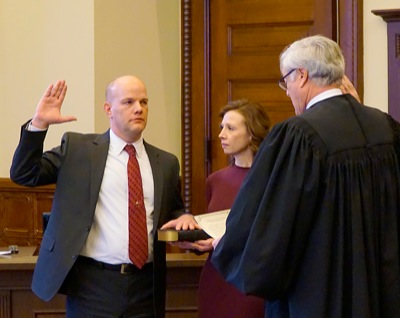 WAPAKONETA - For the first time in more than three decades, a new judge will preside over Auglaize County Municipal Court.
R. Andrew Augsburger officially takes over as judge on Monday but stood before a packed courtroom Friday to be sworn to replace retiring judge Gary W. Herman. Every seat in the 77-person gallery was filled for the ceremony.
"I'm deeply humbled that so many people came in to see me get sworn in," Augsburger said at the close of the proceedings. He paid tribute to the attendees including many county and municipal workers. "As seriously as they take their job and how they treat people fairly before the courts of Auglaize County, that's what I want to continue as the next judge of this court. I want to honor the voters of this county for the faith you put in me to be the municipal court judge."
Augsburger has served as assistant county prosecutor for the past 21 years. He takes over for Herman, who administered the oath. Before the ceremony, Augsburger indicated he had learned much from Herman over the years.
"He has been a very fair judge in how he treats people with respect, on how he treats each individual that has come before him over the last 36 years. Taking his time to make sure they knew what was going on. They may not like the end result, but they are treated fairly through the system, and they know what is going on," Augsburger said.
Augsburger said the lessons he had learned from Herman will influence the way he administers justice.
"I'm looking forward to the new challenge of approaching the justice system from a different point of view," he said. "But still the point is trying to be fair to the people who come before the court, treat them as individuals and with respect. But as judge, make sure they know what is going on, the charges against them, what is happening and that they know they are being treated fairly within the system."
Augsburger said people should expect few changes during his six-year term.
"Nothing massively different. I'm not really planning on major changes because I've liked the way this system is run in Auglaize County for the 21 years I've been here. We get to treat the individual person who comes before the court not just a case number. Unfortunately that's what you see in the bigger jurisdictions. You have to turn them out. Here we may try to treat the individual so they can make the appropriate change in their life so they don't have to come back and see me again," he said.
Augsburger said he has attended a four-day judges' school, but his mindset will mainly come from two decades of practicing law and the desire to treat everyone with respect as a judge, not simply arguing a case.
"The main thing is, I'm no longer going to be the advocate, so I'm no longer going to be arguing for a particular side. I'm going to be the neutral person in the middle of it. But I still have to make sure there is appropriate evidence to prove someone guilty beyond a reasonable doubt, which is what I've been doing as a prosecutor. So that mindset is still there," he said.