Thursday, February 7th, 2019
New Bremen school project set at nearly $17.5M
By Tom Stankard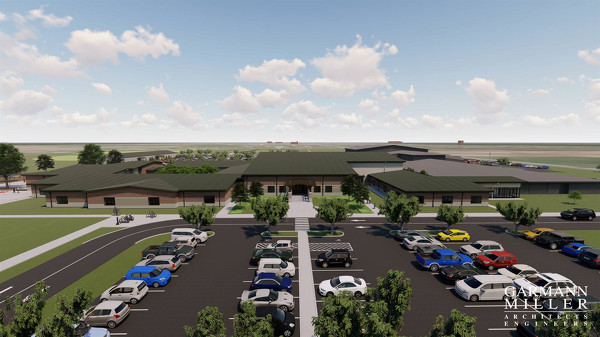 NEW BREMEN - School Board members at a special meeting Wednesday set the guaranteed maximum price for the upcoming new building project at $17.489 million.
Of that amount, $6.742 million will be funded locally and $10.747 million will be state-funded, subject to final approval by the Ohio Facilities Construction Commission.
Groundbreaking for the project is set for next month.
Construction manager Gilbane Building Co. set the guaranteed maximum price based on drawings by Garmann/Miller Architects-Engineers, Minster.
The maximum price is broken down into three sections: the high school parking lot renovation has been capped at $857,293, demolition of the existing elementary school has been set at $991,939 and construction of the new elementary school has been capped at $15.622 million. The state will fund $8.879 million of the elementary school construction and $6.742 million will be locally funded.
Superintendent Jason Schrader gave an overview of the project after the board meeting. When first planning for the project, school officials wanted to renovate the seventh- and eighth-grade classrooms and incorporate a larger gym and new kindergarten through sixth-grade classrooms into the new building.
While designing the project, officials kept in mind future growth, student safety, innovation and cost efficiency. Educators have toured other schools for further inspiration, Schrader said. They would like the project to include extended learning areas outside of the classroom, more technology in the classroom, a conference room, a flexible workspace room, a concession stand and courtyards, Schrader noted.
A $1 million donation from local resident Dianne Komminsk will provide room for future growth and be used to fund a flexible space between the high school and the new building.
Schrader said this area could possibly be used for robotics; career exploration; maker space for project-based learning, such as science, technology, engineering and math projects; and a prekindergarten area. In her honor, the space will be called the Komminsk Center for Innovative Thinking, Schrader said.
Four existing rooms in the high school will be renovated into middle-school classrooms, Schrader said. The high school kitchen will also serve students in the new facility. The space will have an additional service line, allowing one on each side of the kitchen.
The project will go out for bids this month. A groundbreaking ceremony is scheduled for March 28, and the project is expected to be completed by the beginning of the 2020-2021 school year.