Saturday, April 13th, 2019
Truck plows into house
Medical issues cited as cause
By Leslie Gartrell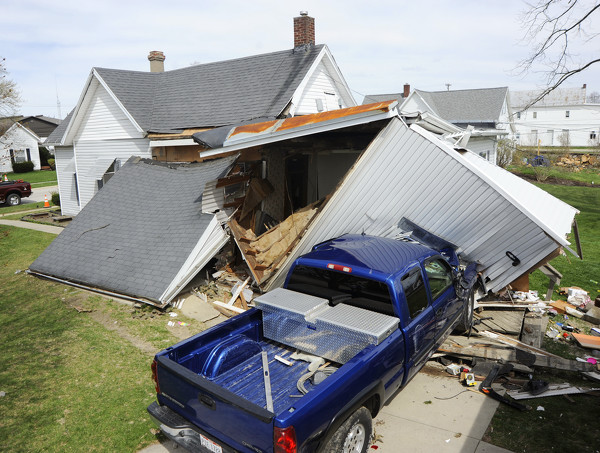 COLDWATER - A Chevy pickup truck careened into a home on Friday afternoon, injuring the driver and trapping the homeowner under debris.
The driver had experienced medical issues that caused him to accelerate, lose control and crash into the home at 321 W. Walnut St., according to Coldwater Police Chief Jason Miller.
Miller said homeowner Sharon Zizelman was in the kitchen when the pickup truck stuck that part of the home and trapped her. Coldwater Fire Department personnel were forced to break a window to enter the home and rescue Zizelman. Zizelman was bleeding from the head but awake and alert, according to Miller.
The driver was quickly rushed to Mercer County Community Hospital, Coldwater, and Zizelman was transported soon after, he said.
Police and fire personnel turned off utilities to the home because of a water leak and a possible gas leak caused by the accident.
Marcella Fridley also was inside the home when the accident happened but was uninjured. She said she was in the next room when she heard a noise that sounded like thunder. She thought lightning had struck when the truck crashed into the kitchen.
"I've never heard anything that loud," she said.
No additional information was available at press time.
See photo album.