Saturday, April 13th, 2019
Fleagle becomes two-time national champion
AMFY Waves have successful showing in Greensboro
By Colin Foster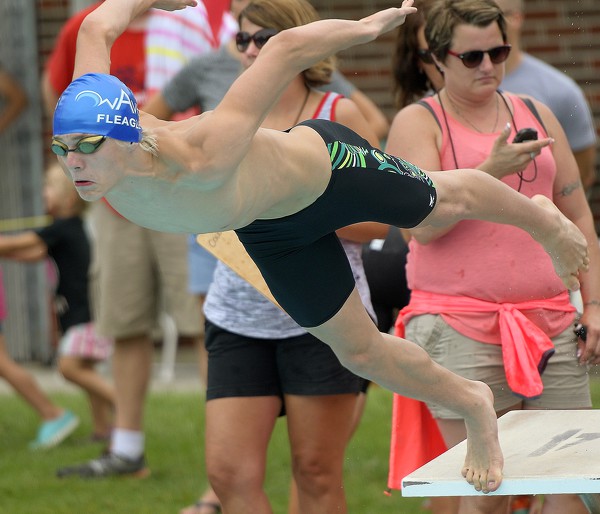 Justin Fleagle has worked hard inside the pool to become a great swimmer.
This week, the 17-year-old from St. Marys was chilling outside of a pool in Florida - enjoying life as a two-time national champion.
Recently, Fleagle and the Auglaize-Mercer Family YMCA (AMFY) Waves swim team had their best-ever showing at the Short Course National Championships in Greensboro, North Carolina.
Fleagle captured his second national title in the backstroke while also placing third in the 50 freestyle and fourth in the 100 butterfly. In the 200 freestyle relay, Fleagle, Nicholas Clune (Minster), Cole Condon (Versailles) and Keaton McMurray (Celina) had the highest finish by an AMFY relay team in a national competition, placing seventh. Claire Gass, a 16-year-old from Celina, also placed seventh in the 100 breaststroke in a time of 1:04.01.
Eleven AMFY swimmers competed at the meet, including Kyle Lucas (St. Marys), Kenzie Conn (Celina), Tiana Mescher (Greenville), Macy May (Coldwater), Julie Beyke (St. Henry) and Danielle Eilerman (Fort Loramie).
"It was a really, really good sign," said Fleagle on AMFY's success. "Back when Josh (Fleagle) swam, there wasn't really too much action going on. We'd have a good swimmer every now and again, but the team's history is starting to pick up now. We're attracting a lot more swimmers and that also means attracting a lot more talent. So we're having more consistently better swimmers, and seeing the national team grow is a really good sign."
The Short Course Nationals is the largest junior swimming meet in the country.
All of Fleagle's individual times were personal bests.
At last summer's YMCA Long Course National Championships, Fleagle completed the 50 backstroke in 26.18 seconds for his first title. In Greensboro, he won the 100 backstroke with a time of 47.70. Matthew Brownstead of State College, Pennsylvania, finished runner-up with a mark of 48.0 seconds.
The 50 freestyle featured three swimmers finishing below 20 seconds. Brownstead won with a time of 19.68 seconds, David Curtiss of Hamilton Area, New Jersey, was second with a 19.78 and Fleagle third in 19.99. Fleagle's time of 48.17 seconds earned him fourth in the 100 fly.
"The 50 free was probably the biggest jump," Fleagle said. "I dropped about half a second, and in the 50 free that's huge. I went under 20 seconds. I went 19.99 - that's a huge milestone. Right now, I think there's only 20 juniors in the United States who can go under 20 in the 50 free. So that was a huge accomplishment.
"I didn't swim the 100 fly last year," he added. "I only started swimming fly this year because I liked it, so I decided "Hey, you're going to do it at nationals,' and then I ended up getting fourth. That was pretty cool. … The time drop I had in the 100 fly this year was I think about four or five seconds because I never really put my whole effort into the fly until this year."
AMFY's 200-yard freestyle relay team of Fleagle, Clune, 15, Condon, 16, and McMurray, 17, completed the race with a time of 1:24.94. The team from Somerset Hills, New Jersey, won with a time of 1:22.06.
"That was so awesome," Fleagle said. "Our team has never gone in the A-finals in a relay in history. … We were expecting to get into the A-final for the 200 medley relay, but we didn't expect to get it in the 200 free relay because it was really fast. I was really proud of the other guys on the relay because they really pulled it through. They dropped quite a bit of time."
The 200 medley relay group of Fleagle, Lucas, 17, McMurray and Condon qualified for the B-final and placed 14th with a time of 1:34.34.
The AMFY Waves placed 16th in the boys standings with 81 points and 39th in girls with 12 points.
Next up on the national circuit is the YMCA Long Course Nationals that will be held July 30 through Aug. 3 at the University of Maryland.
Fleagle's brother, Josh, collected four national titles in YMCA competition during his senior year before he went on to swim for Ohio State. Though the younger Fleagle could duplicate his brother's success soon, Justin said he isn't title chasing. He's just enjoying swimming.
"I'm just having fun," he said. "If it happens, it happens."