Thursday, June 23rd, 2022
Mr. Shoppe getting in shape
Store was damaged in train-truck wreck
By Leslie Gartrell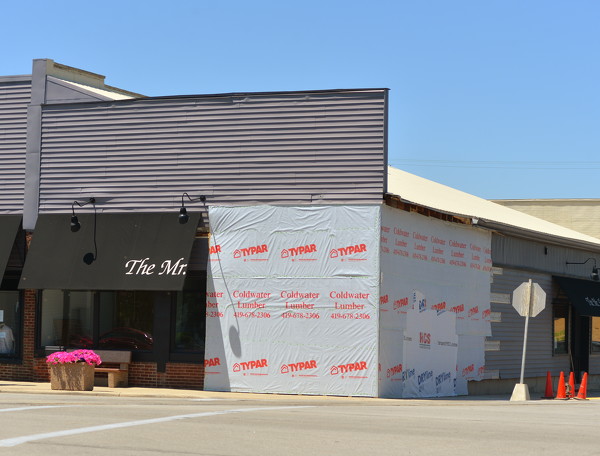 Photo by Paige Sutter/The Daily Standard
COLDWATER - The Mr. Shoppe at 204 W. Main St. is slated to partially re-open today, a week after a semitrailer crashed into the building after colliding with a train.
Although the front of the store is closed, owner Gary Bruns said the west side is open for clients. The Mr. Shoppe continues to serve existing wedding clients only.
Bruns on Wednesday said the store has been operating out of Calico Cafe during ongoing repairs.
Bruns said he was grateful for the Heinrichs, owners of Calico Cafe, whom allowed him to set up a mini storefront for wedding parties to pick up and drop off their attire as well as a dressing room for fittings.
The front of The Mr. Shoppe is closed and sealed. AES Ohio has restored electricity to the east side of the building, he said.
Bruns said he is waiting for architectural blueprints for the store, which he anticipates will arrive in about a week. Bruns said the semitrailer driver's insurance is covering the cost of repairs, which he estimates at roughly $150,000 including loss of income and products.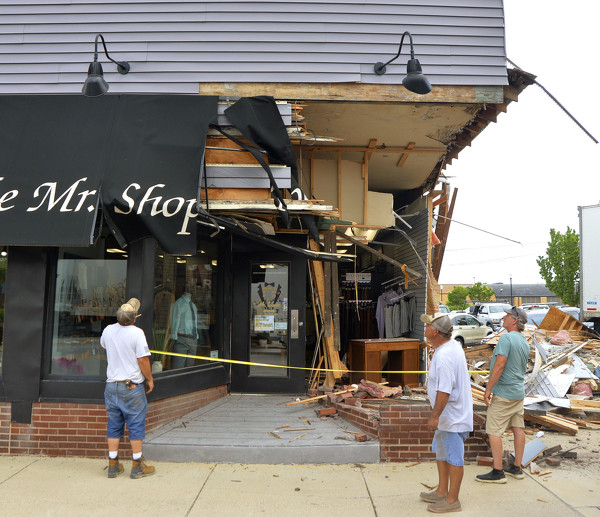 Photo by Paige Sutter/The Daily Standard
The store was damaged after a train hit the tail end of a semitrailer crossing the railroad tracks, causing the trailer to jackknife into the store. No injuries were reported.
Kwaku Wiredu, 44, Columbus, was operating a 2019 Alimco semitrailer eastbound on West Main Street, according to a Coldwater Police Department news release. Wiredu was stopped in traffic west of the railroad crossing at West Main Street and First Street, Sgt. Kevin Wynk had said.

Kent Jones, 54, Fort Recovery, was conducting a 1978 General Motors train northeast on the RJ Corman railroad tracks, according to the release.
The train struck the semitrailer after Wiredu proceeded east through the railroad crossing, Wynk said. The trailer was pushed into The Mr. Shoppe, causing signifiant damage.
The trailer of the semitrailer sustained disabling damage while the train sustained minor damage, per the release. An unoccupied vehicle on North First Street also sustained functional damage.
Wiredu, 44, Columbus, was cited for failure to yield at a railroad grade crossing.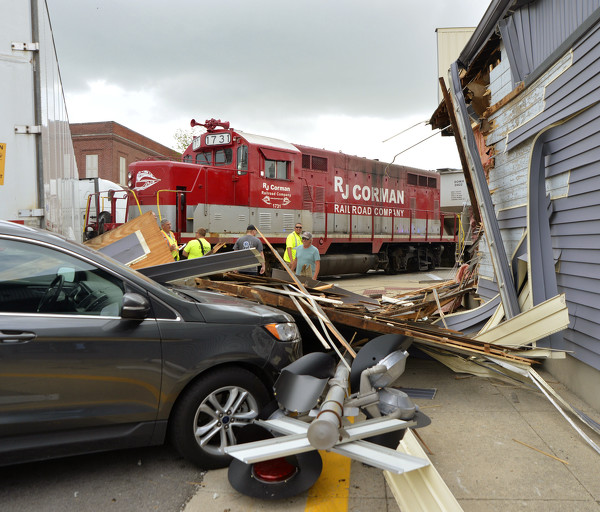 Photo by Paige Sutter/The Daily Standard