Thursday, June 23rd, 2022
Quick start, quick win
Coldwater scores early and often in win over Marion
By Gary R. Rasberry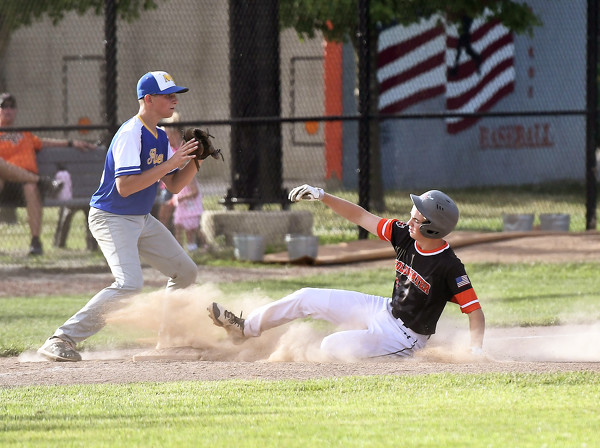 Photo by Nick Wenning/The Daily Standard
COLDWATER - Justin Kaup got through the top of first inning quickly, and his Coldwater teammates provided the quick runs in the bottom of the inning.
The Cavaliers scored three in the bottom of the first against Marion Local and Kaup needed just under 50 pitches to complete a 12-0 five-inning win over the Flyers in Mercer County ACME baseball action on Wednesday at Veterans Field.
Kaup connected for strikes on 36 of his 49 pitches, scattering three hits, hitting one batter and striking out four for the win.
"He did a nice job. Got a 1-2-3 inning and we got the offense going right away," said Coldwater coach Tom Brunswick. "That helped a lot."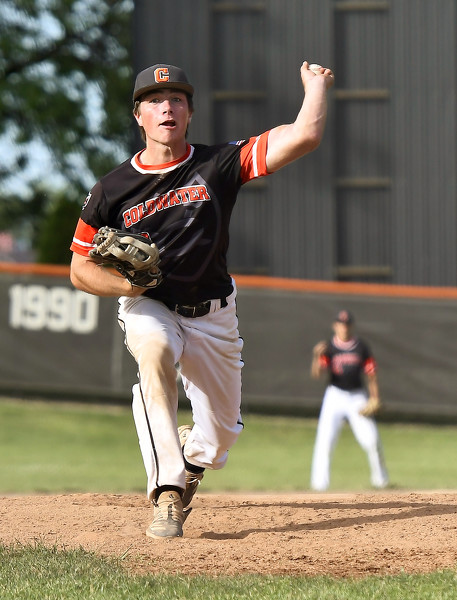 Photo by Nick Wenning/The Daily Standard
AJ Harlamert led off the bottom of the first for Coldwater with a single, went all the way to third when the pickoff attempt went to the fence and scored on a wild pitch. Curtis Duerr singled and Braylen Harlamert followed with a single of his own. A wild pitch moved the runners up 90 feet, allowing Evan Harlamert to fly to left to score Duerr. Kaup then singled home Braylen Harlamert for the third run of the inning.
Coldwater added four in the second with Braylen Harlamert bringing home twin brother AJ and Duerr with a triple. Evan Harlamert then brought home his cousin with a single of his own, with Blockberger later flying out to right to score Evan Harlamert.

Blockberger came up with the big hit in the third with a two-run single after AJ Harlamert's RBI double to make it 10-0. Braylen Harlamert wrapped up the scoring in the fourth with a two-run single.
That was enough for Kaup, as the Flyers managed just three singles. Bryant Meier broke up the no-hitter with two outs in the second with a single. Damon Cramer led off the third with an single and then Hayden Poeppelman got a pinch-hit single with one out in the top of the fifth.
"It wasn't a perfect night, they never are," said Brunswick. "But there's a lot of things we did right tonight. A lot of energy. Our situational hitting with a guy at third was pretty good. Thought we swung the bats pretty well."
AJ Harlamert and Braylen Harlamert each had three hits with AJ scoring four runs and Braylen driving home three.
Coldwater travels to Rockford tonight for a makeup game with Parkway starting at 6:30 p.m.