Wednesday, September 27th, 2006
Can you dig it?
Fossils, heat and hail make geology trip memorable for Lake Campus students
By Laura Walker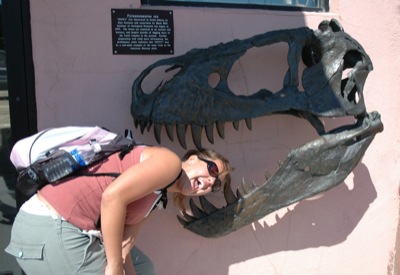 Enduring sweltering heat and a dangerous hailstorm, 18 Wright State University-Lake Campus students recently traveled through nine states collecting more than 3,000 pounds of fossils to bring back to Celina.
Chuck Ciampaglio's geology class takes one or two long trips a year to look for fossils, go on geological digs, visit museums and take home souvenir remains.
"We want to open up avenues that are not typically opened," he says.
The latest trip, which lasted 11 days, took the students to Canyon Lands, Utah; the Badlands, Mammoth Hot Springs, Mount Rushmore, Deadwood and Black Hills Insti-tute, all in South Dakota; Dinosaur National Monument and Red Rocks in Colorado; and many other stops along the way.
Students used hammers to break open rock nodules containing 70- to 80-million-year-old ammonite fossils. Ciampaglio says he found a nodule measuring more than 2 feet wide that contained more than 100 of the snail-like fossils. The piece was added to the trailer full of 11/2 tons of remains that were brought back to the campus for further study.
Ciampaglio's work has led students to become involved in large projects throughout the country.
"This is what really drives (home) geology for kids," Ciampaglio says.
In South Dakota, the students visited a hot spring containing a large number of Colombian and woolly mammoths that have been excavated. Students viewed 1-foot diameter tusks found at the site where the animals died after falling into the hot spring. These animals were 20 feet long and more than 10 feet tall at the shoulder.
The students also learned how to deal with mother nature.
They endured everything from 100-plus temperatures to hailstorms. While traveling high in the mountains, almost in the clouds, Ciampaglio says, they learned of an approaching hailstorm. They headed in what they thought was a safe direction. But the storm had a mind of its own and rained down golf ball-sized hail that damaged the windshields on three of their vehicles.
The next day was to have been used to find trilobite fossils, but instead was spent finding someone to replace the windshields.
Ciampaglio's trips promise rugged accommodations, continuous physical work and a lifetime of memories, he says. A typical day involves rising promptly at 6 a.m., tearing down the campsite or packing up at a hotel, driving to sites, working in the elements, driving to the next location to set up camp and sitting down for dinner together as a group.
The trips allow students to collect samples for their classes, gain real life experiences and have a good time, Ciampaglio says. To supplement their hands-on learning, students carry two field guides for plenty of reading and information.
Student Jennifer Burnett, 28, of Celina, says the $500 cost for the course was worth it. This course was comprised mostly of the trip itself, but Ciampaglio held a few meetings to prepare students before and expected them to read their field guides.
"The class was a whole lot of fun. I couldn't have gone on that kind of trip on my own," Burnett says.
Ciampaglio sums up his drive to organize the trips by saying, "It's a really cool world, a really cool country; I just want kids to realize that."