Wednesday, October 11th, 2006
State aims to please
Fish hatchery workers on target with efforts to assist local bow and arrow enthusiasts
By Nancy Allen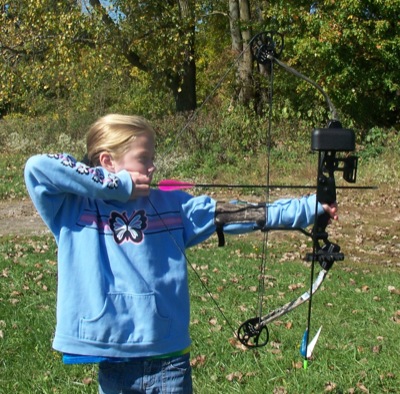 Bow hunters and anyone else who likes to shoot with traditional vertical bows and crossbows now has a place to practice at the St. Marys Fish Hatchery.
Sean Finke, wildlife coordinator at the Mercer Waterfowl Area, built most of the range with the help of state fish hatchery employees.
Finke said archery is becoming more popular, and the range has already seen a lot of use since it opened a couple of weeks ago.
"There's no permit required and no charge," Finke said. "You can just go back and start shooting."
The main reason the archery range was created was to give people a place to shoot outdoors so they become more successful and accurate hunters, Finke said. The range is open to everyone regardless of whether they hunt or not.
The range also gives hunters the added challenge of shooting with a bow and arrow instead of a gun, he added.
State division of wildlife funds were used to build the range, located on the north edge of the fish hatchery off state Route 364 in Auglaize County. It has five separate shooting areas with 11 targets set up at 10-, 20-, 30-, 40- and 50-yard intervals. The targets are made of compressed foam. Ten of them are white with black spots and one has a picture of a deer on it.
There also is a 10-foot tall shooting tower for those who want to practice shooting deer from a tree stand.
People must bring their own bows and arrows, and there are bow hangers and arrow holders on the range. A sign directing people to the range eventually will be erected on Feeder Road just off state Route 364. Archers can park in a lot next to the range.
The range is open seven days a week from sunrise to sunset. When there are regulated waterfowl hunts being conducted on the site, a sign will be posted noting a change in shooting hours, Finke said.
Field tipped arrows can be used to shoot at all the targets, and the broad head arrow tip used to hunt deer can be shot at one of the targets.
Finke pointed out that most animals can be hunted legally with a bow and arrow in the state of Ohio during its posted season.
"You can hunt darn near anything with bows (including) squirrels, turkeys and rabbits," he said. "Anything that's in the Ohio Hunting and Trapping Regulations Digest is legal to hunt with a bow during those specified hunting seasons."
The public archery range is a project the state has wanted to do for some time, said Jeff Wenning, outdoor skills officer with the division of wildlife.
"This year everything fell into place," he said.