Wednesday, October 11th, 2006
Seniors step up in Celina home finale
By Ryan Hines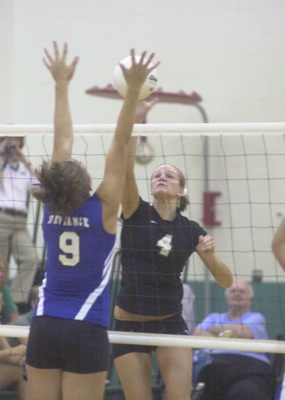 A pair of dominating games and a rally in the third game allowed Celina to sweep Defiance in a battle for second place in the Western Buckeye League volleyball race.
Celina won the first two games by double-digit scores (25-14 and 25-13) and came back from as many as five down in the third contest before winning 25-22 on senior night at the Intermediate School.
The Green and White (15-5, 7-1 WBL) appear locked in second place in the WBL, barring any major upsets with one league match left to play (vs. Wapakoneta on Thursday). Ottawa-Glandorf, the lone league unbeaten, will look to win the WBL outright on Thursday when the Titans take on Defiance (11-5, 6-2 WBL). It's unlikely, but Celina put itself in a position to win a share of the WBL title (if O-G gets beat and Celina beats Wapak) with a solid showing against Defiance.
"It was a team performance for us tonight and that's something that we have to get used to," said Celina head coach De De Stoner. "If you play as a team, you'll win a lot of games and that's our goal. We just have to come out ready to play as a team each time that we hit the floor."
Stoner along with the rest of the Celina fans got a little nervous in the third game after the home team coasted in the first two contests.
Defiance led by three at 18-15 prompting a Stoner timeout, but the visitors won three of the next four points to take a 21-16 advantage leading to another Celina timeout.
The Defiance lead stayed at five points one rotation later at 22-17 when Celina senior Kelly Adams stepped to the service line and quickly restored order for Celina.
Adams served the game out with eight straight points for Celina as two Defiance timeouts only served as speed bumps in the spurt by the Green and White.
Seniors played a big role in bringing Celina all the way back as Kylie Dorsten, Betsy Hone and Adams along with junior Liz Homan all came up with big plays down the stretch in the deciding game.
"We weren't communicating very well in the first two games and it showed in our play as we went down two games," said Defiance head coach Stacey Rittenhouse. "We got back into it in the third game because we communicated better as a team, but at the end of the third game we went back to the way that we played in the first two games. We just didn't bring the type of game that you need to have to beat Celina on the road. They're a good team."
"We played early on in the third game like Defiance was going to roll over and give it to us," said Stoner. "Then all of the sudden, Defiance wasn't rolling over and giving us anything. Maybe our girls realized that we could lose this and then they came out and played much more like they did the first two games."
Stoner started all five seniors on Tuesday and they all played well in their home finale.
Hone shared the team lead for Celina in attacking with Homan as the pair recorded 13 kills apiece. Dorsten was productive with 10 kills, Adams had 14 service points and the combo of Lindsay Scheer and Nikki Siefker did a little of everything for Celina.
"It was a good senior night for us," said Stoner. "Overall we played well."
Celina's regular-season finale is at Wapakoneta on Thursday while the top-seeded team in the Lima Senior sectional will open the postseason on Oct. 21st against rival St. Marys at 10 a.m.