Thursday, October 19th, 2006
Faller glad to be back on the field
Fort Recovery native returns to football after tour of duty in Iraq
By Gary R. Rasberry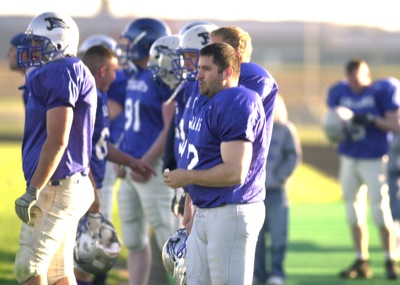 FORT RECOVERY - When he wasn't on the field playing this past Saturday, Jose Faller sat down or stood up on the sidelines cheering his teammates on.
A couple of months ago, his only connection to the Mercer County Cougars, the semi-pro football team he helped run and played for, was through e-mail or letter from his teammates and family.
Faller returned several weeks back after a tour of duty in Iraq, and got ready to play football again.
"It's a pretty good feeling to be home," said Faller after the Cougars beat the Indiana Generals 18-0 in an IFL playoff game. "These guys kept things going pretty good. It's nice to be part of the team again."
The Fort Recovery native played when the school began its football program in the early 1990s, then got back into the game when semi-pro teams began surfacing around his area.
After one team disbanded, Faller got together some of the teammates, a number of them alums from high school, moved the team to Fort Recovery and went to work getting the team into the Interstate Football League, a semi-pro league with teams in Indiana and Ohio.
The first year in 2004, the Cougars played in the IFL title game held at the RCA Dome in Indianapolis.
As things were getting ready for the 2005 season, Faller - who helped with the team's logistics as well as playing fullback and linebacker - received a notice from the United States Army.
A reservist, Faller received orders to report to 221st Military Intelligence Battalion for preparation for duty in the Middle East.
Faller was stationed in Kirkuk, Iraq. While there, Faller looked to receive word from family and teammates each week to see how the Cougars were doing. Faller even e-mailed The Daily Standard sports department asking for results.
"Every Saturday, I'd be sitting there waiting to see if I could hear something from Pork, Iggy (teammates Kevin Wehrkamp and Eric Schmitz, respectively, who helped take over the day-to-day operations in Faller's absence) or whomever. I just liked to hear if we won or not. I was just sitting there waiting to find out."
The Cougars kept Faller in their thoughts. Faller's name and jersey number 12 stayed on the roster and his mailing address was put on the team's website.
"Friends and family would always send me e-mails and letters. I'd get stuff from the guys on the team. It was a real good feeling being over there and knowing people are thinking about you."
As his tour neared an end, Faller made his plans to come back to the Cougars, not only to cheer the team on from the sidelines, but to play.
"It was nice seeing the team was having a good year (8-2 in the regular season)," said Faller, whose brother Greg joined the team this season and plays linebacker. "I knew by the time I got back we'd have a few games that I still could play. That was nice.
"It was great," said Faller about his first game back. "I just felt fortunate to be back and back on the field with those guys."
Faller had the spirit to get back on the field, although he was expecting that his body would hurt a little more after not taking any hard hits for over a year.
"I'm getting a little older, now," said Faller. "Hits are taking a toll on me. In some ways, it's nice to get out there and hit somebody again, but again, I remember the day after the first game, I was a little stiff and sore. That's how it always is."
Faller says that he should be home for good. As for suiting up again next season, that decision will come after this season.
"I should be back for good," said Faller. "We'll talk about it in the offseason. Looks like we might be losing some guys, but hopefully we'll get some replacements."