Friday, December 29th, 2006
Goodyear strike over; new contract OK'd
By Janie Southard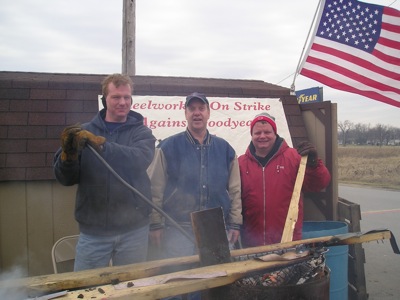 ST. MARYS - It's back to work for more than 14,000 United Steelworkers in 12 Goodyear plants following Thursday's ratification of a new three-year contract.
"We're all just so dang happy to have it over," United Steelworkers (USW) Local 200L Vice President Rick Niekamp said this morning from the union's St. Marys office. "We're satisfied with the contract and satisfied with all our people who voted. It's been a long 12 weeks."
Niekamp said the contract was approved by all USW locals on strike at 12 Goodyear plants nationwide.
During 12 hours of voting Thursday, members of USW Local 200L in St. Marys voted 351-30 to accept the contract. During a celebration on the picket line following the vote, several local police agencies responded to Goodyear's main gate when an argument erupted between a union member and one of the professional replacement workers leaving the plant.
"We're still looking into the matter, but at this point it appears there were words exchanged but no physical altercation," Auglaize County Sheriff Al Solomon told The Daily Standard this morning.
Niekamp termed the incident a little disagreement.
"Nothing bad happened and things smoothed out quickly," he said. "We're glad it was nothing worse than that."
Looking forward, Niekamp expects to have the full union workforce back to work next week. The contract also says all replacement workers will be left go as Goodyear workers resume their jobs.
"We're still looking at a staggered start beginning Tuesday, but it shouldn't be more than a couple days until we have everybody back on the job," he said, agreeing it's been a long time coming.
USW members kept working on a day-to-day contract extension after the last three-year contract expired July 22. By early October talks between the USW and Goodyear reached a stalemate and the union issued a 72-hour strike notice.
On Oct. 5, Steelworkers walked out of 12 U.S. plants and four Canadian locations. (The new contract involves only the 12 U.S. plants. Due to Canadian law, the union and Goodyear negotiate in Canada differently from the process observed in the United States.)
During nearly three months of manning the picket line 24/7, the membership supported their union's timeless campaign of solidarity. Local union leaders spoke of "glitches" on the line, perhaps referring to six Steelworkers who went back to work. Some members openly expressed frustration with the process but did not breach the solid union front.
St. Marys and surrounding communities and various church groups supported their striking neighbors with monetary gifts to the local's emergency fund and often brought coffee and cookies to the picket line.
Inside the plant, management personnel worked long hours and long weeks keeping the company in production. One management employee who's been working his own job plus filling in out on the shop floor observed: "Because of what your own job is, you sometimes forget that it takes the whole team to keep us rolling. It will be great to give the floor back to the experts."

Contract highlights:
Some highlights of the new three-year contract between the United Steelworkers and Goodyear Tire & Rubber include:
• A $1 billion trust fund for retiree medical benefits with $700 million in cash and the rest in Goodyear stock.
• A wage structure ranging from $13 per hour to $24 per hour.
• A Goodyear commitment to invest $550 million in USW-affiliated U.S. plants over the term of the contract.
• Cost of living allowances applied to hourly pay rates, a lump sum payment and the trust fund for retiree health care.
• Weekly health care premiums ranging from $5 for a single employee to $18 for family coverage.
• Strikers can return to work with full seniority, including the term on strike as well as receiving missed holiday pay.
• Replacement workers cannot be retained when strikers return to work.
• Also in the contract are separation agreements, known as buyouts, for 411 employees including 31 employees at the St. Marys plant.
• In addition, the Tyler, Texas, plant is safe from closure through 2007 and the company cannot close Tyler before it has closed a non-union facility. After closing, Tyler employees will be offered $2,000 for every year of service with a minimum payment of $15,000 and a max of $40,000 with medical insurance to continue for 24 months.
The above information was taken from the United Steelworkers' contract summary document.