Friday, December 29th, 2006
Bulldogs cruise past Cavs behind first quarter
By Gary R. Rasberry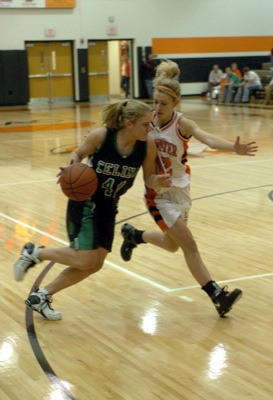 COLDWATER - After a strong 3-0 start, things have been going south for Coldwater, which lost its next four games.
The Cavs were looking to break their four-game losing streak on Thursday night against Mercer County rival Celina, but in order to do so, Coldwater's struggles against the Western Buckeye League would have to end.
Celina became the fourth straight WBL team to beat Coldwater as the Bulldogs rolled over the Cavaliers, 52-31 at The Palace led by a huge first quarter.
After losing their first Midwest Athletic Conference game to Fort Recovery, the Cavaliers have now lost to four straight WBL teams in Bath, Elida, St. Marys and now Celina.
The Bulldogs are now 5-4 on the season while Coldwater drops to 3-5 overall and just 1-4 against WBL foes (lone win over Van Wert).
Celina made sure that the dominance for the WBL over Coldwater would not end on Thursday, jumping out to a 21-1 lead after the first quarter.
The rough start by the Cavaliers was due to a cold shooting performance. The Cavaliers missed all 10 of their field-goal attempts in the quarter - and made just one free throw in four attempts during that same stretch.
Meanwhile, Celina started out hot. Betsy Hone had seven points in the opening quarter with Kelsey Waterman adding six as the Bulldogs were 9-of-13 in the first quarter from the field.
The strong start even surprised Celina head coach Brian Stetler.
"That was nice for us to get out to a hot start," said Stetler. "I thought we played pretty good defense and had some good shots. Any time you get out to a start like that, it's a plus."
"Obviously, we've been struggling the last four games," said Coldwater coach Nick Fisher. "I think we're questioning our confidence and questioning some things, especially offensively. I don't know why.
"We told the kids we have the utmost faith in them that they'll get through this. We just have to get it done in practice," added Fisher.
Coldwater found its touch in the second quarter, outscoring the Bulldogs for the only time in the game with a 16-12 advantage in the quarter. Celina, however, still held a comfortable 33-17 lead at the half.
"Coldwater is a good ballclub. They just need to find some confidence right now," said Stetler. "They have some very good players. I was holding onto my seat, hoping we would continue to play the way we were (playing)."
Celina cruised for the final 16 minutes of play, outscoring Coldwater 19-14 in the second half to push the lead back over 20 points at the final buzzer.
The Celina defense did a solid job on the two main cogs of the Cavaliers. Kendra Robbins did score 15 points on 6-of-10 shooting, but got nine of that in the second quarter. Point guard Tasha Stucke, in foul trouble most of the night, was held to three points before fouling out late in the fourth quarter.
"We defended her (Robbins) most of the game with a freshman (Cenzie Yoder)," said Stetler. "I thought Cenzie did a fine job. Kendra is a good player and Tasha is a good player. I thought Kelsey did a great job out top (on Stucke). That was our focus, those two for sure."
Hone led the way for Celina with a game-high 18 points while Liz Homan hit five of her seven shots to add 10 points. Waterman and Yoder added to the Bulldogs' balance as they scored nine and eight, respectively.
In addition to Robbins' 15 points and nine rebounds, Ali Wenning added six points with Brooke Gross scoring five.
"We have faith in them. We'll get through this," said Fisher. "It'll just take some work and some effort in practice."
Celina is off for the rest of 2006, returning to action Jan. 4 at the Fieldhouse against Shawnee in WBL action. Coldwater continues its WBL slate of games on Saturday, hosting Ottawa-Glandorf at The Palace.