Wednesday, December 6th, 2006
Panthers endure a rough night
By Gary R. Rasberry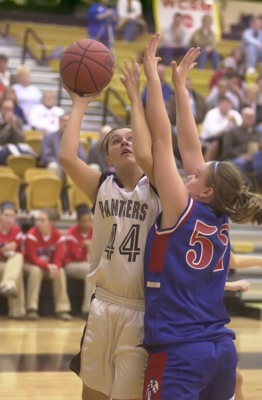 ROCKFORD - As she was getting things picked up off the floor, Parkway girls basketball coach Krista Evans had just one comment.
"Just a lot of work to do," said the first year Panthers coach after her squad suffered a 56-17 loss to Crestview on Tuesday night at Panther Gymnasium, dropping the Panthers to 0-5 on the season.
Crestview, 3-0, shut out the Panthers in the first quarter, then turned things up in the second half in outscoring Parkway 34-6 in the final 16 minutes of play.
The Knights, who are playing without four-year letterwinner AnnaKay Myers after Myers tore her ACL in a previous win over Allen East, cranked up the pressure from the start of the game.
In the opening quarter, Parkway turned the ball over nine times and missed all seven field goal attempts.
Yet, by all accounts, Parkway was still in the ballgame as the Knights had a sluggish start in hitting just one of their 10 shot attempts. The only reason they were up 7-0 after eight minutes was their free throw shooting. Kelsey Nedderman was a perfect 4-of-4 in the quarter.
"That's one of our key points," Crestview coach Greg Rickard said of his team's pressure. "Even if we're not shooting well, like we did in the first half, we always feel like we're in games with our defense."
Parkway finally found its scoring touch, after going scoreless for the first 10 minutes of the game, and actually got to within eight points at 18-10 with 1:12 to go in the half before the Knights hit a 4-1 run to end the half at 22-11. Jamie Guggenbiller scored eight points in the quarter.
The Knights went back on attack to start the third quarter, outscoring Parkway 10-0 in the first three minutes of the quarter and holding Parkway scoreless until Marian Bevington sank a jumper with less than five seconds left to prevent a second scoreless quarter.
From there, Crestview set the cruise control. The Knights got better at shooting, finishing 19-of-44 (43.2 percent) after starting out cold. The foul shooting, which ran 12-for-15 in the first half, cooled off to a still respectable 18-of-26. The key stats were turnovers and rebounds. Crestview outboarded Parkway 38-20 and committed just eight turnovers to Parkway's 23.
"We finally got the shooting going in the third quarter," said Rickard, whose team was 8-of-10 from the floor in the third quarter. "Causing the turnovers and getting the extra possessions helped."
Carly Lichtensteiger led all scorers with 16 points. Nedderman had 13, thanks to a 9-of-10 night at the line, to go with 10 rebounds.
Guggenbiller led Parkway with 10 points. Danielle Matthews added five points with Bevington and Hannah Beougher each scoring two points.
Parkway returns to action on Thursday, hosting Coldwater in the Midwest Athletic Conference opener.