Friday, March 30th, 2007
Handwriting is on the wall
Cursive writing may be dying art in U.S. schools
By Janie Southard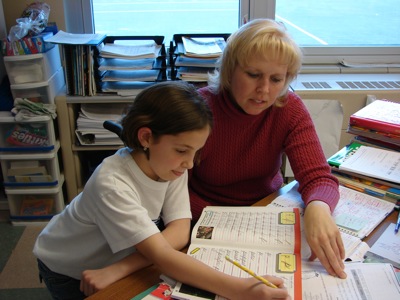 Some area middle school students cannot read cursive writing when they see it on the board. On a recent SAT test essay question, only 15 percent of 1.5 million high school students taking the test wrote in cursive. The rest printed.
Maybe the handwriting is on the wall for the curvy writing style that some consider an art form and others regard as a waste of teaching time.
"Perhaps it's a dying art," Coldwater Middle School language arts teacher Diane Greiwe said recently. "But students should at least be able to read cursive writing."
In an effort to help these kids, her department purchased script alphabet strips to hang around the room, such as several previous generations will remember from their own grade school classrooms.
Cursive writing's nemesis is indeed technology. Kids today seem almost naturally expert at keyboarding and text messaging. By school age, most are as familiar with communication technology as they are with their own bicycles.
Local educators say it's entirely possible that students can get through high school without being able to read or write cursive. Presently, the state has made no ruling on the fate of cursive, but it's probably coming.
Bill Steinbrunner, St. Marys schools' director of instruction, agreed that kids should be able to at least read cursive writing.
"One of the first things that comes to mind is that the kids today will have to deal with us older folks who will always write (in cursive) ... Plus there's the whole commercial side of it," he said, then joked, "They won't be able to locate a Coca-Cola, for one thing."
Coke is one of many national logos styled in cursive.
On the instruction side, he pointed out there is constant pressure on teachers to teach to the standardized tests and core subject areas, which doesn't always leave room for things such as cursive writing. Penmanship is not a focus for No Child Left Behind, the federal program designed to bring all kids up to speed academically.
St. Marys district will continue teaching it as they currently do, beginning in the third grade.
Teacher Nan Davis-Ferrall said her kids at East elementary in St. Marys can't wait to get started with handwriting.
"It's like art to them and maybe they see it as a break from the more serious subjects. Whatever the reason, most of them begin the year asking when can they start learning cursive writing," she said, as she turned through a colorful workbook that focuses on undercurves, downcurves and overcurves. "They really do practice and practice. And, I'm not kidding, some of them have beautiful handwriting - much better than my own and I'm the one showing them how."
One boy in her class struggled and struggled with legible printing. "His block letters were really bad, but his cursive is truly like art," she said.
Celina schools begin cursive in second grade, and the students' report cards still have a line for "handwriting."
"However, cursive handwriting is something of a lost art due to our reliance on technology and computer-based word processing programs," commented Superintendent Matt Miller.
Steinbrunner said the experts are still weighing in on whether children that young have the necessary motor skills for it.
"We know some schools start right off in first grade teaching cursive," he said.
Davis-Ferrall said it's not unusual for some of her incoming third-graders to already know cursive.
"Even though we tend to believe younger kids don't have the motor skills, these kids do very well. Maybe it has to do with motivation," she said.
She doesn't feel she has enough information for a firm opinion.
"But if I had to say right now, I'd say it doesn't hurt to teach it. They'll need it for signatures and, of course, they're going to encounter information that comes only in writing ... I don't see any reason not to teach it. It doesn't take that much time," she said. "And, the kids love it."
Steinbrunner likened cursive to a rite of passage. "Finally you're closer to the adult world; you're a big kid now."