Friday, March 30th, 2007
Parkway erases an eight-run deficit to defeat Celina, 11-8
By Gary R. Rasberry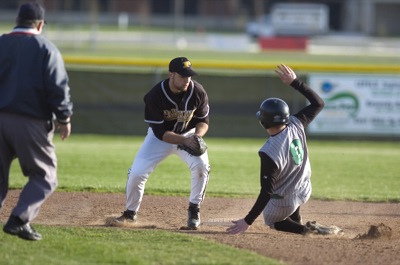 Compiled by Gary R. Rasberry

Celina finally was able to feel what it was like to score a boatload of runs in the first inning after giving up eight runs combined in the first inning of their first two games.
Unfortunately, the good feelings did not last for the Bulldogs.
After giving up six Bulldog runs in the first inning and trailing 8-0 in the bottom of the fifth, the Parkway Panthers took the lead with a nine-run fifth inning, then added insurance to post an 11-8 win at Don Black Field for their first win of the season.
The Bulldogs, who scored more runs in one game than they did in their first two games combined, drop to 0-3. Celina scored two more runs in the third to lead 8-0 .
However, in the bottom of the fifth Parkway finally got to Celina starter Cory Pfeffenberger, cutting it to 9-6 before Cody Brandt blasted a three-run home run to put Parkway up 9-8.
Insurance came in the sixth when Jensen Painter took Andy Sell's offering out of the ballpark for a two-run shot to make it 11-8.
Jeremey Heiser worked the final 21/3 innings, allowing just a hit, to get the win while Pfeffenberger was tagged for the loss.
The contest, which combined for 21 hits and seven errors, five by Celina, had a number of multi-hit players.
Getting a pair of hits for Parkway were Heiser, Painter, Michael Baldauf and Drew Luginbill while John Bonvillian, Jeremy Kerr and Joel Lange each had two hits for Celina. The Bulldogs' Brian Brockly added a home run.
Celina has its home debut today at the renovated Eastview Park against New Bremen while Parkway travels to Delphos Jefferson.

LINESCORE
Celina 602 000 0 - 8 10 5
Parkway 000 092 X - 11 11 2
WP - Heiser.
LP - Pfeffenberger.
2B - P: Hesier.
HR - C: Brockly. P: Brandt, Heiser.
Records: Celina 0-3, Parkway 1-2.