Monday, May 7th, 2007
Fort residents break a sweat for wellness
School's first ever Walk for Wellness Rally promotes 630-mile goal
By William Kincaid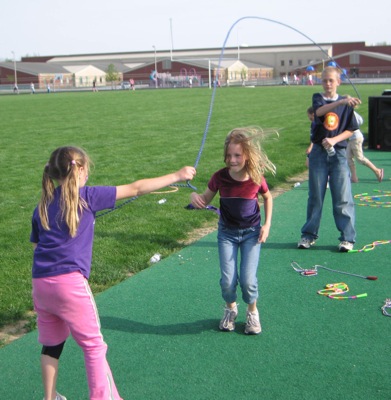 FORT RECOVERY - With elevated pulses and broken-in sneakers, a group of residents attempted to walk all the way from Indian Stadium to St. Louis ... figuratively anyway.
The school held its first Walk for Wellness Rally on Friday evening, as students and adults walked side by side through countless laps - trying to collectively accumulate 630 miles, the distance to St. Louis.
"We'll try to walk to St. Louis tonight," Middle School Principal Ted Shuttleworth said. "I think we'll make it there ... but I don't think we'll make it back."
The Walk for Wellness Rally, which Shuttleworth hopes becomes an annual event, is an extension of the school's wellness policy and an attempt to promote a health lifestyle.
Students and parents each decided how many miles they would individually contribute. High School Principal David Warvel and other school officials punched off each participant's mileage cards, where 20 laps equated to five miles.
"We've never done anything like this before," Shuttleworth said.
During the afternoon, which lasted from 3:45-6 p.m., health officials from local offices provided information and free blood pressure and glucose level tests to the public, while Fort Fitness and Iron Hawk Martial Arts both provided demonstrations.
Also, fruit snacks and water, in addition to door prizes such as T-shirts and jump ropes were distributed throughout the afternoon.
"It was an excellent turnout," Shuttleworth before pointing out that at least 300 people came out to the event. "People have just really enjoyed it."