Monday, May 7th, 2007
Cardinals, Flyers post easy victories
By Randy Bruns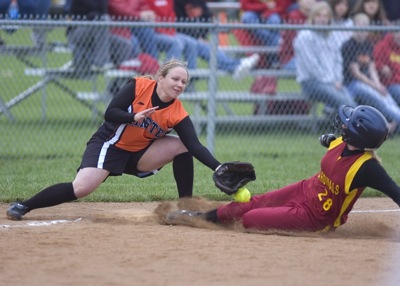 NEW BREMEN - It took two days, but the Division IV sectional softball doubleheader is finally in the books.
Persistent rain forced a suspension of the second game after the third inning on Saturday, but blue skies on Sunday allowed the game to be finished under more favorable conditions.
In Saturday's opener, the Marion Local Flyers squandered some early scoring opportunities but put together a monster fifth inning en route to a 7-2 victory over the Fort Recovery Indians.
The second game saw the New Bremen Cardinals push out to a 5-0 lead before play was halted, and the status quo reigned on Sunday as the score stayed the same at the end of the game.
Marion, now 9-11 on the year, will face St. Henry on Wednesday at 5:00 p.m. for the right to play New Bremen (14-5) on May 15th for the sectional crown. Interestingly, the Flyers will take on the Redskins tonight in a Midwest Athletic Conference contest.

Marion Local 7, Fort Recovery 2
For a while, it looked as if the Flyers' aggressiveness may be their downfall.
In both the first and second innings, Marion had runners at third base but both times they were nailed on fine pickoff throws by Fort Recovery catcher Val Fortkamp.
Meanwhile, the Indians were making the most of their scoring opportunities.
Ashley Grube notched a two-out RBI single in the first inning to give the Indians an early lead, and Fortkamp later came home on an error with two outs in the fifth to give her team a 2-1 advantage.
It was a lead that proved to be short-lived, however, as the Flyers blew things open in the bottom of the fifth inning.
Rachael Puthoff, Jessica Kemper, and Tara Hartings all singled to load the bases with one out, and Kim Droesch followed with a seeing-eye single that scored two to give the Flyers a 3-2 lead.
Amy Droesch then followed her sister with a smash to the rightfield fence that went for a two-RBI triple, and the Flyers tacked on two more on a single by Kristi Shaner and an Indian error.
"They put a lot of hits up in that inning, and that put us in a hole that we couldn't get out of," said Fort Recovery coach Marie Osterholt. "We just didn't get the timely hits and they did, and that was the difference in the ballgame."
For his part, Marion coach Gary Moeder was relieved to see his squad bust out of its early struggles.
"I started to get a little worried in about the fourth inning when we weren't hitting the ball very hard," said Moeder. "We talked to them when they came in before our turn in the fifth and said they just needed to relax and let the ball come to them instead of reaching for it. We've been hitting the ball hard this year but usually it has been right at people, so hopefully a day like today will get things going."

New Bremen 5, Minster 0
An explosive four-run third inning on Saturday came just before play was halted, and it was just what the Cardinals needed to put the game out of reach.
With New Bremen up 1-0, Sara Rutschilling led off with a walk and advanced to third after Kim Thobe's grounder was fielded but thrown into rightfield. After a flyout, Maria Staton plated Rutschilling with a single and Thobe then scored on Stacy Timmerman's fielder's choice.
Tyler Rohr then drove in the game's fourth run with a single and later scored on a wild pitch to put what would be the final run on the scoreboard.
The Wildcats came into the game with an aggressive mindset, as they swung early and often at Cardinal starter Maria Staton's offerings. Though Staton notched nine strikeouts, the Wildcats put the ball in play but just couldn't string together enough hits.
"(Staton) is not going to walk many hitters," said Minster coach Michelle Pleiman. "She's going to take the ball right to you so you have to be aggressive. We did a very good job of getting the lead runner on base four of the seven innings, but we left them on base because we didn't get much support behind them."
New Bremen also got four of its lead runners on base, but were able to move them around with some assertive baserunning. The Cardinals swiped seven bases on eight attempts, and by pushing the issue on the bases, they made the Wildcats rush into some defensive miscues.
"We try to put some pressure on the defense," said New Bremen coach Craig Griesdorn. "We try to do some things here and there (on the basepaths) and sometimes you're successful and sometimes you're not. The key to this game is being able to move runners with bunts and hits, and you'll score some runs."
These two next door neighbors will see more of each other tonight, as New Bremen heads to Minster for a Midwest Athletic Conference game.