Friday, May 25th, 2007
Former Zuma man gets 21 years for raping child
By Margie Wuebker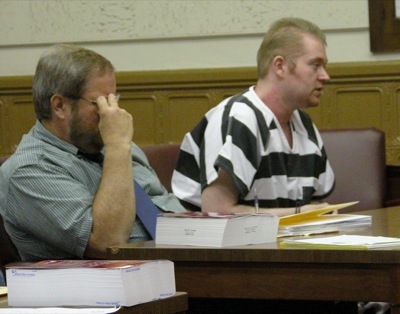 A former Montezuma man was sentenced this week in Mercer and Auglaize county courts to a total of 21 years in prison for raping and sexually abusing a young girl.
Gregory L. Deaton Jr., 26, of Camden, appeared in Mercer County Common Pleas Court on Wednesday and Auglaize County Common Pleas Court on Thursday to face sentencings for the sex crimes he committed in both counties between 2003 and last October, with the same victim.
Auglaize County Judge Frederick Pepple lived up to his reputation for handing down harsh sentences and ordered Deaton to serve the maximum time in prison for rape and two counts of gross sexual imposition - 13 years.
Despite the fact Deaton faced more charges in Mercer County - rape and four counts of gross sexual imposition - Judge Jeffrey Ingraham sentenced him to just eight years behind bars. He faced a maximum of 30 years in Mercer County.
Because the Auglaize County hearing came second, Pepple had the option of ordering both courts' prison terms to run concurrently or consecutively. He chose the latter, giving Deaton a total of 21 years in prison. He will be eligible for parole after a minimum of 19 1/2 years served.
Although Ingraham labeled Deaton a sexual offender, Pepple gave him the most serious classification - a sexual predator - which takes priority over the Mercer County order. Upon release from prison, Deaton will have to register his address with the county sheriff where he resides every 90 days for the rest of his life.
In the Mercer County courtroom Wednesday, Deaton's wife and mother sat quietly in the front row of the gallery as he addressed the court prior to sentencing, saying "I know I did wrong, and I'm sorry for what I did."
The gross sexual imposition charges involve fondling of the victim who was under 13 at the time. She had already marked her 13th birthday when the rape occurred at Deaton's former Windy Point home near Montezuma. The other offenses, which took place between the fall of 2003 and the fall of 2005, occurred at locations around the Montezuma and Maria Stein areas.
The Auglaize County charges involve the rape and molestation of the same victim. Those offenses took place Oct. 4 in St. Marys.
Mercer County Assistant Prosecutor Matt Fox reminded the court the girl in question was victimized and revictimized over a period of two years. She reportedly suffered serious psychological harm exacerbated by her age and has dealt with nightmares, vomiting and attempted suicide in the wake of the offenses.
"When we look at the practices and principles of the Ohio Revised Code, this man's conduct merits consecutive sentences and, if not consecutive, then significant time in prison," Fox said.
The victim reportedly requested such a sentence as a means of protecting society while giving Deaton an opportunity to seek counseling.
"I think this demonstrates the significant maturity of this young lady," Fox said turning toward the girl seated with family members. She flashed a quick smile before looking down at her clenched hands.
Deaton was represented in Mercer County by attorney Daniel Myers.
Present for the case heard in Auglaize County on Thursday were two of Deaton's family members, as well as the victim and four other supporters on her behalf. None of them opted to speak at the hearing.
Auglaize County Prosecutor Ed Pierce asked the court for the maximum sentence allowed by law, fearing Deaton was a danger to society and was likely to re-offend.
Deaton, who was represented by court-appointed attorney Mark Weller, spoke briefly on his own behalf. He apologized to the victim and her family and vowed to get help.
Pepple told Deaton his actions are likely the result of not dealing with his own sexual issues. Deaton admitted in a presentence investigation that he was sexually abused as a child.
"You didn't get here overnight, it's been years and years and years," Pepple told Deaton, adding it will take a long time to straighten out his life even with counseling.
During plea negotiations in both counties, five additional rape charges and three other counts of gross sexual imposition were dismissed by prosecutors in plea agreements.
Although Deaton has accumulated 210 days in the Mercer County Jail, the law states he will receive no credit for the time because his initial arrest in October was for the Mercer County case and his time served in jail there is not transferred to the Auglaize County case, Pepple said.