Friday, May 25th, 2007
Cardinals score trio of runs in the sixth for 3-2 victory
By Gary R. Rasberry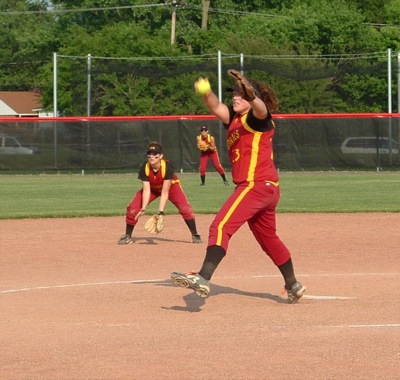 HUBER HEIGHTS - For the sake of Craig Griesdorn's health, New Bremen might be requesting a change of venue for future regional tournament games.
The New Bremen softball coach noted that Wayne High School's softball diamond has a strange effect on his team. It seems like every game has to have a dramatic twist.
The Cardinals scored three times in the top of the sixth, then held off the late charge of West Liberty-Salem to take a 3-2 win in the Division IV regional semifinal on Thursday.
The Cardinals (20-6) will now play Triad on Saturday at noon for a berth in the state final four next week in Ashland. Triad (20-7) beat Covington 8-3 on Wednesday to advance. It will be the second time in three years the two teams will play for a state semifinal berth. The Tigers, fifth in the state according to the coaches, ends a solid season at 25-4.
"It's this diamond," said Griesdorn. "Two years ago, it was come back late and win in both games. Same thing today. They came out and got the lead early. Hey, you play good competition, you have to play your best.
"I'm a diabetic. My blood sugar was probably up to 450."
The anticipated pitching matchup between Cardinal ace Maria Staton and Tiger starter Emily Kauffman lived up to expectations. Staton did not walk a batter and struck out three in the six-hit performance. Kauffman was nearly unhittable through the first five innings, scattering three hits and not letting a runner past second base.
Kauffman's luck changed in the top of the sixth. After getting the first two outs on ground outs, Kim Thobe came up with a rally-starting single up the middle. Elly Cisco, with a double to her credit already, worked the count and drew a walk.
Staton then stepped up and took Kauffman's first offering to right-centerfield, scoring Thobe and courtesy-runner Shelby O'Neill to put the Cardinals up for the first time at 2-1. Stacy Timmerman followed with a single to right, scoring courtesy-runner Becky Hartwig to make it 3-1. After Tilor Rohr singled, Kauffman switched positions with outfielder Ally Crawford, who enticed Steph Winner to ground back to the circle.
"We got big hits when we needed them, all with two outs," said Griesdorn. "Kim started it with two outs. Elly got the big walk and Maria got the big hit. Give our courtesy runners some credit. Shelby and Becky, they did a heckuva job running the bases. Those were big runs."
Staton made quick work of the Tigers in the bottom of the sixth, needing just seven pitches to get out of the inning.
The Cardinals got a scare in the bottom of the seventh as the Tigers showed some life. Crawford, Brittany Mayse and Shae Blake loaded the bases with a trio of singles.
After Griesdorn went out to the mound for a conference with his team, Devon Woodruff grounded to short. On the play, Timmerman tagged pinch-runner Amanda Lannert for the out, allowing pinch-runner Paige Parker to score cut the deficit to 3-2.
Sami Konkle followed with a bunt to move the runners up a base for Ledford, who came in batting .562. The threat soon ended as Ledford grounded weakly to first, where Winner stepped on the bag to put the Cardinals in the final eight in Division IV.
"Basically we brought the corners in to get the out, because the tying run was on second and we wanted to keep her from getting to third," said Griesdorn of his chat with the team. "Stacy made a good play. We didn't want to play the infield in because that would really open the floodgates. If we're playing in, we wouldn't have made that play.
"Give (WL-S) credit. They weren't going to go away and I knew they weren't going to go away. They're too good for that. I'm proud of our kids. They fought for everything they did," continued Griesdorn.
Tigers head coach Lanay Detwiler was short with her comments after the game.
"New Bremen had a nice pitcher," said Detwiler. "Their girls are real aggressive at the plate. We felt we were a lot alike in those aspects. We knew it was going to be a tight game."