Thursday, June 21st, 2007
Letting their imaginations fly
Local teen team one of few chosen for contest
By Janie Southard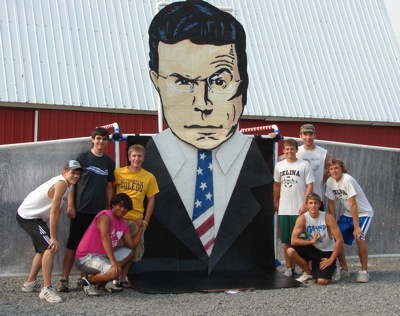 Look ... up in the sky! It's a bird. It's a plane. No, it's Celina's entry into the Nashville, Tenn., Flugtag. Eleven 2007 Celina grads have built a flying machine to compete in Saturday's Red Bull Flugtag.
Flugtag literally translates from German as "flying day," which loosely translates once more into "air show." However you say it, the one-day event will see about 30 human-powered, creatively designed and often garage-built aircraft take off over the Cumberland River.
The project began about five months ago when a couple of the Celina Eleven (Ben Salway, Andy Muhlenkamp, Ethan Westgerdes, Josh Ebbing, Dan Wyczinski, Kyle Pfeffenberger, Travis Wenning, Bryon Barker, Chris Post, Neil Hoyng and Alex Ball) saw a television commercial for Red Bull, an energy drink. In that ad, the company asked for entries into the upcoming flugtag.
Say no more. The guys jumped on the idea and came up with a design featuring a homemade likeness of writer/comedian Stephen Colbert of television's "The Colbert Report." In April their design was one of 30 accepted from 300 submitted to participate in Nashville.
Now, the challenge was to translate the design from paper to PVC pipe, Saran wrap, duct tape, cardboard, and paint. With an eye to the quickly approaching trip to Nashville, the 11-man team completed the aircraft earlier this week, just as the clock was striking Tennessee time.
Have there been mishaps along the way? Well, yes. The Muhlenkamp driveway now bears the mark of creation in the form of a spilled gallon of black paint on its surface.
Did the Muhlenkamps accept this as a fallout of design genius at work? "Maybe a little bit," Andy hardly convinced The Daily Standard on Monday evening at a rural Celina garage where some finishing touches, such as the left wing and Colbert's likeness, were being attached.
The choice of Colbert's image was not difficult, according to Ethan, who concisely explained, "he's our idol." Hhhmmmm.
On Saturday, 25 teams of five members will give their air creations a push off a 30-foot high ramp over the river and will soar into the summer sky. However, it is also not unreasonable to think these folks and their machines could also get pretty darned wet.
The world record stands at 195 feet of flight achieved in 2000 in Austria, where the Red Bull Flugtag began in 1991. The United States record is 81 feet set in Baltimore in 2006.
There are some cool prizes in the mix, the guys assured the newspaper: a pilot's training course, skydiving lessons, and learning to paraglide - or the cash equivalent, which comes to about $12,000.
The groups will be judged on distance, creativity of design and showmanship. To satisfy the showmanship requirement, each entry will have one minute to perform on the flight deck before they launch. Size of the craft does not matter, but it can't weigh more than 450 pounds including the pilot.
Ben will pilot the Celina/Colbert craft and it doesn't appear a weight overload will be a problem. The other team members attending will be on hand with glue, more tape, a couple life preservers and an abundance of support, not to mention Band-Aids and/or cameras, as needed.