Thursday, June 21st, 2007
Mariners win wild one in 11th
Errant intentional walk brings home winning run
By Gary R. Rasberry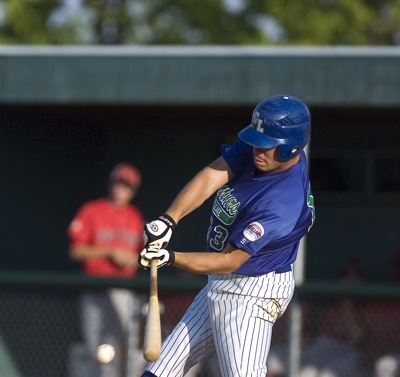 As Grand Lake skipper Scott French said, it was a wild way to win, but they'll take it.
After losing a 4-3 lead in the eighth inning, the Mariners came back in the 11th, scoring on a botched intentional walk attempt to post a 5-4 win over the Licking County Settlers at Jim Hoess Field.
The win avenges a 5-4 loss to the Settlers last week. Grand Lake improves to 4-5 as the Settlers drop to 3-7.
"You take it anyway you can get it," said French. "We felt like we should have won the game earlier. We had a 4-3 and were under control.
"That was a wild end to the game. It's very rare. We'll take it."
The ending flurry started in the bottom of the 11th when Derek Martin lofted a shot to right. The ball hit the fence and Martin reached second standing up. Dock Doyle then grounded deep into the hole at shortstop and Andy Johnson opted to hold the ball, giving Doyle the single, rather than throw and risk a throwing error.
Brooks Hunton then came up and, rather than bunting the runners up one base, he lofted a short fly to right that kept the runners from tagging up.
Zac Richard, 1-for-4 in the game, was now up and on reliever Rob Gariano's second pitch, catcher Pat Trettel lost the handle as both runners moved up 90 feet. With first base now open and a likely pinch-hitter for Zachary Gerler on deck, the Settlers opted to intentionally walk Richard, which, unlike high school, the intentional has to be pitched out.
Unfortunately, Gariano threw a little too hard, throwing the ball several feet to the right of Trettel and Martin immediately came in to score the winning run without benefit of a play at the plate.
Grand Lake got solid pitching, as the Settlers only had baserunners in four of the 11 innings. It was two of those innings, however, where the Settlers got their runs. In the fourth, Jeremy Hazelbaker took a 3-1 offering from Creighton McCallum for a solo homer over the 350-foot sign in rightfield. That was followed by a walk to Tyler Rogers and after an out, a double by Steve Rosado put two on for Evan Jones, who singled in both runners to make it 3-0.
McCallum pitched a perfect fifth to close out his tenure, retiring the side in order for four of the five innings.
Brad Piatt came on in the sixth and retired the first eight batters he faced before Hazelbaker, singled. After Hazelbaker stole second, Rogers blasted a triple in the gap in right-centerfield. Hazelbaker came around to score as Rogers slid into third as French wasted no time in calling on closer Kyle Heyne, who got Scott Sieder to ground to short to end the inning.
"We had (Rogers) down in the count 1-2 when they scored that run," said French.
"(Piatt) might have pitched to one too many hitters, that may be my fault. He was out there and in a groove. We let him go."
Heyne finished the game with hitless innings in the ninth through 11th innings, allowing only a walk, but getting out of the jam when Brian Rudolf lined to Brooks Hunton, who stepped on first to get the double play in the 10th.
Grand Lake got a run back in the fourth when Martin scored after a Doyle single.
In the fifth, the Mariners snagged the 4-3 lead. Richard singled and Gerler walked, before Ryan Chenoweth bunted the runners up. Michael Stalter singled in Richard with an infield single. Mike Stalowy came up to hit for Keith Benbow, lofting a fly to center to score Gerler. Krauss followed with a double to score Stalter to get the lead.
The Mariner pitchers combined to scatter five hits and allow just two walks, striking out 12 Settlers along the way. Heyne, who improves to 1-1 with the win, struck out six in 3 1/3 innings.
"Heyne being able to stretch out and throw 3-4 innings was very clutch," said French.
Doyle went 3-for-5 in the contest while Krauss added two doubles.
Grand Lake heads north tonight for a contest at Lake Erie before coming home for a three-game homestand starting Friday with a 7:15 p.m. contest with the Columbus All-Americans.