Friday, August 10th, 2007
Severe thunderstorms cause power outages, down trees
By Betty Lawrence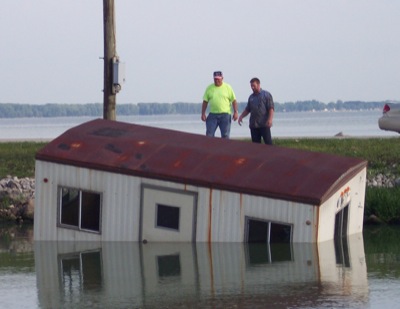 A severe thunderstorm with straight-line winds rocked Celina late Thursday afternoon, downing several large trees at the Mercer County Fairgrounds and causing power outages in the southeast and west portions of the city.
According to Mike Ryan, meteorologist with the National Weather Service in Wilmington, wind speeds from the storm reached 60-65 miles per hour.
The first storm hit New Bremen and New Knoxville around 2:30 p.m., then a second more severe storm hit Celina around 4:15 p.m. and traveled into Auglaize County, where hail was reported in St. Marys, Ryan said.
Celina City Electric Superintendent Jeff Severns reported that lighting strikes and downed trees caused his department fits all over the city.
"We had a tree down on a feeder line out on 703 and Staeger Road east of Celina that put about 1,500 people out of power and then there were lightning strikes that took out the insulators on Grand Lake Road at the railroad tracks," Severns said. "Then lines were down from lightning and trees that affected another feeder line on the west side of town, causing around 1,000 more people to lose power."
All power was restored by 6:30 p.m., he said.
Out at the fairgrounds where the 155th annual county fair is going on, fair goers Reta Schroeder and Scott and Jane Hole were more than a little surprised when they discovered both their trucks were damaged by a large oak tree taken down by the storm.
"I parked under the tree because I was thinking of shade because it's so hot. I didn't think about a storm," Schroeder of Celina said.
"It's kind of funny. I had just been out to the truck, sitting in it and thinking about what a beautiful, old tree that oak was," commented Scott Hole of Celina. "And now, look at it."
Seth Massie and Dawn Podskalan, who operate the kettle korn stand at the fair, were busy putting their stand back together following the storm.
"We were losing our tent. It was blowing away and I was hanging on to it as hard as I could," Podskalan said.
Wayne James, manager of the fair rides, reported "no major damage" to the many midway rides.
The Celina Police Department also was having fits following the storm that disrupted nearly all its means of communication, including phone lines, radios and cell phones.
"Our cell phones went out when a storm from the northeast hit and then when a second storm from the southwest hit, we lost it all when lightning struck the tower behind city hall," Police Chief David Slusser said this morning.
All forms of communication were up and running this morning, Slusser said, however, his department still is operating on portable radios on some frequencies.