Friday, August 10th, 2007
Cane game a ringer for most popular attraction
By Timothy Cox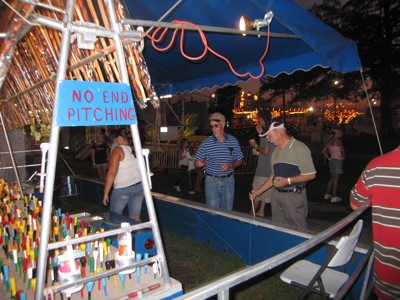 It's a game where toddlers can win and grown men can be humbled, and at $1 for eight rings, it remains one of the most popular attractions on fair midways.
The Helms family has been running the "cane game" in nearly the same spot at the Mercer County Fair since 1950. The family first set up their game at the Auglaize fair in 1948.
Darren Helms, 40, has been coming to the Mercer County Fair for 11 years and is the third generation of his immediate family to run the game that has been in the family for 130 years.
"It's still the same game today, only the price has changed," Helms told The Daily Standard on Thursday.
For a buck, fair patrons can get eight plastic rings - they used to be wooden - that they toss at a field of colorful canes. The canes come in two styles, those with long handles and some with knobby, round handles. For those who really want to test their skill, the rings can be tossed at some higher targets that can win a traditional fish hook-shaped cane.
The prize has been the same throughout the game's history, Helms said. When asked about its remarkable staying power through the years, Helms said it is the game itself, not the prizes.
"It's a good, honest game that kids can win at and it doesn't cost a lot of money," said Helms, who calls Delphos home.
The Helms' family works four fairs and four festivals every summer with two similar cane stands, including the one parked at the Mercer County Fair this week that was built by Helms' father in 1960.
Just at the Mercer County Fair alone, more than 2,800 canes are given away as prizes and the game appeals to young and old. The family now makes the canes themselves, Helms said.
"We found we could put out a better product," Helms said.
The cane game is only a part-time affair for the Helms family. For most of the year, Helms works as a plumber/pipefitter. But when summer rolls around, the whole family gets involved with the game that has become a fair staple.
Darren Helms' father, Darrell Helms, still works in the business and is in charge of making the thousands of canes won by fair goers every year. His wife, Deete, also works in the stand, and children and stepchildren also have taken up the family trade.
Helms' grandfather, James Burton Helms, died a few years ago but stayed active in the cane game until he was 82. He was the first one to bring the game to Mercer County in 1950.