Wednesday, August 29th, 2007
Dammeyer wins opener with Green and White
By Ryan Hines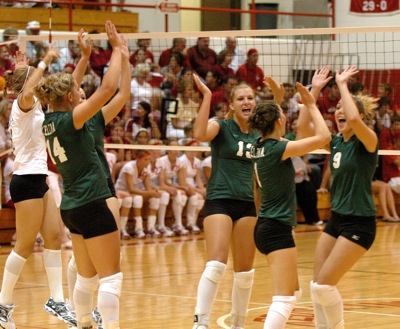 ST. HENRY - It was a strong start to the 2007 volleyball season for the Celina Bulldogs on Tuesday night.
Celina went on the road to St. Henry and came home with a 25-20, 25-23, 18-25 and 25-20 win over the Redskins giving first-year Bulldogs head coach Carolyn Dammeyer her first win with the Green and White varsity.
"My nervousness came off as excitement today for the first match and I don't think that our girls played nervous tonight on the road against a strong program like St. Henry," said Dammeyer, who coached the Bulldogs' freshmen for three years prior to this year. "I think that the girls handled playing their first game well by playing hard the entire match with intensity. I was impressed overall with our first game."
While it was a win in the first outing for Celina, it was a fourth straight defeat to start the season for St. Henry.
"We improved from Saturday, but we aren't consistent enough right now to beat the type of teams that we've played so far," said St. Henry head coach Lori Schwieterman. "Experience is a factor for us. When we get into a funk, we have a hard time getting out of it and that will come as we gain more and more experience."
It was a tight match in the early going of the first game, but Celina got on a hot streak once Liz Homan stepped behind the service line. Celina was nursing a 12-9 lead, but the Bulldogs scored three straight points to force a St. Henry timeout. After the timeout, Celina ripped off another five straight points taking a commanding 19-9 advantage.
Celina's lead went as high as 12 points in the opening game before St. Henry made a strong comeback getting as close as 24-20 before a Redskins error handed the Bulldogs a win.
St. Henry nearly led for all of game two, until Homan took control of the game late. The Redskins were holding a two-point lead at 23-21 when two straight Homan blocks and a thunderous kill put Celina at match point, 24-23.
"Liz played big for us, especially at the end of the second game," said Dammeyer. "She was strong at the net and gave us a couple of huge blocks during that spurt."
Haleigh Adams capped the second game with a kill for a 2-0 advantage for the Green and White.
A flurry of hitting, net, setting and serve receive errors by Celina kept St. Henry in the match in game three. The Bulldogs made an assortment of errors for 12 St. Henry points, including the final point of the game for a 25-18 Redskins win.
The fourth game went back-and-forth between the two Mercer County volleyball standout programs. With the match tied at 20-20, Homan again went back to serve and gave the Bulldogs a spark.
St. Henry committed three errors because of strong Homan serves and then Kelsey Waterman and Allison Thobe added kills for five straight Celina points and the overall victory in the match.
"St. Henry is an intimidating place to play with all the history of their program, and it should be a big confidence booster for us as we look to better ourselves," said Dammeyer.
Homan led the Celina offensive attack with 15 kills while Waterman added nine kills to go along with seven kills from Cenzie Yoder.
Shelby Buschur led St. Henry with 15 kills while teammate Chelsey Kremer added eight kills.
Celina returns to action again on Thursday for the home opener and Western Buckeye League opener against Wapakoneta while St. Henry will travel to Coldwater for the Midwest Athletic Conference season debut.