Wednesday, August 29th, 2007
St. Marys tied to Dillinger gang
By Janie Southard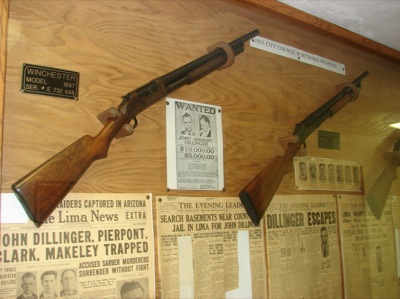 In New York on Oct. 3, President Franklin D. Roosevelt tossed out the first ball of the 1933 world series at the Polo Grounds between the New York Giants and the Washington Senators. The Giants won that game and eventually the series.
In Mercer County on that same day, The Daily Standard printed that work had begun on the Celina St. Marys Road using only laborers certified as unemployed.
Black and White Food Market in Celina was selling coffee for 16 cents a pound, and a quarter would buy 7 pounds of apples. Kellogg's Corn Flakes was the featured ad in The Daily Standard.
In Wierton, W.Va., the forerunners of the United Steelworkers were beating the bejeezus out of each other on the picket lines.
In St. Marys at about 3 o'clock on that Tuesday in 1933, members of the John Dillinger gang were robbing The Home Banking Company of $10,000, not an amount to sneeze at during those Great Depression days.
On Wednesday, Oct. 4 that year, the front page of the Standard headlined the Giants taking the second game of the series by 6-1. Below that appeared an article identifying Charles Makley, former St. Marys resident, as one of the quartet of bandits who robbed the St. Marys bank on Tuesday. In this article the loot was upped to a "$12,000 aggregate of currency and silver."
Makley was identified easily, having grown up in St. Marys. He left the area in 1928 and had no police record in St. Marys, but had been arrested for a bank robbery in Lawrence County. Similar charges in Hammond, Ind., took precedence.
The Standard reported he was working in St. Marys when he was arrested for the Indiana robbery. He was shipped off to the Indiana state prison where he met up with some of Dillinger's incarcerated buddies. He would spend the rest of his life in their company.
Makley was with the Dillinger gang when they escaped that prison and hit the ground running. In fact, the whole group ran to St. Marys likely because of Makley's knowledge of the town. Their plan was to finance the gang breaking out Dillinger from the Lima jail where he'd been for a while awaiting charge for a Bluffton bank robbery.
Known as "Fat Charlie," Makley was a rotund, likable sort of guy with a quick wit and ready laugh. What he wasn't was a Makley, according to members of the Makley family who still reside in Auglaize County.
Little Charlie and his mom, a carnival performer, arrived in St. Marys with a circus and remained in St. Marys with the Makley family who owned and operated a buggy shop on South Front Street among other financial enterprises. This is according to the late Clarence Makley, who made these statements to this reporter in the early 1990s.
A small article in a Standard issue published before the St. Marys robbery noted Makley's given surname was Gray. That account ran at the time of yet another robbery. Wikipedia, an Internet site, gives a biography on Makley stating he was arrested in 1924 in Kansas using the alias of Charles McGray.
That same site says he was born Nov. 24, 1889, in St. Marys to Edward Makley and Martha Sunderland Makley. This is most likely not true.
Charlie himself is said to have listed Edith Slife Makley as his wife on prison paperwork. But, Charlie's lifestyle seems to demonstrate that he was not above fiddling with the truth.
Various members of the Makley family, who still live in Auglaize County, have spent the past 80 years swearing that the 1930s gangster is absolutely no blood relative of theirs.
Historian Jim Bowsher of Wapakoneta told the Standard his extensive research on Makley, which is being considered by The History Channel (THC) for a series, also indicates strongly the gangster was not a Makley.
Although he could not share his information due to an agreement with THC, Bowsher did say Makley was a foster child who was passed around from family to family. "I talked with one foster family relative in Indiana who gave me some pictures of the young Charlie," Bowsher said, adding he also knows Charlie was known by other surnames.
Bowsher believes the Makleys certainly knew Dillinger, and his gang used their house on occasion. "I have a photo of one of the gang at their house. He's blocking the picture with his hand but you can see who and where he is," Bowsher said.
At his 1934 trial in Lima for the murder of Allen County Sheriff Jess Sarver, one of Makley's relatives attending the trial is identified as his "half brother, Fred Makley."
Sarver's murder came as four of Dillinger's gang (Makley, Harry Pierpont, Russell Clark and Edward Shouse) entered the Lima jail to free Dillinger.
In February 1934, Shouse identified his three robber-companions for authorities, because he was unhappy he did not receive his "full share" of the loot from several robberies the gang had pulled.
In March of that year, the trials began and the 50-year-old Makley was sentenced to die in the electric chair at the Ohio State Penitentiary in Columbus. He did die in the penitentiary, but not in the chair.
In September 1934, Makley and Pierpont carved hand guns from bars of soap and staged an escape attempt. Makley was fatally shot by prison guards. Officials kept Pierpont healthy enough to die in the electric chair.
The St. Marys newspaper reported at the time of his death that none of the local Makleys would comment and did in fact try to suppress funeral information.
His private funeral was held at J. D. Purnell undertaking in Leipsic where he was buried at Sugar Ridge Cemetery. That newspaper also reported Leipsic was chosen because it was the hometown of Pierpont, apparently Charlie's only pal in life.
Three of his childhood friends (Sam Swartz, Oscar Kinkley and Thomas McNamee) served as pallbearers.
Following his execution about a month later, Pierpont joined his buddy Charlie in Sugar Ridge.

If you go:
What: Dillinger Days
Where: Downtown St. Marys
When: Saturday
Events:
• Vintage car show, 10 a.m.-1 p.m., Chestnut Street parking lot
• Barbecue chicken dinners, 11 a.m.-1 p.m., Chestnut Street parking lot
• 5-K run, 9 a.m., registration at 7:45 a.m. in Memorial Park