Wednesday, November 21st, 2007
It's the 'cran'berries!
Bouncing onto local family tables this Thanksgiving will be a tart fruit formerly raised in Mercer County
By Margie Wuebker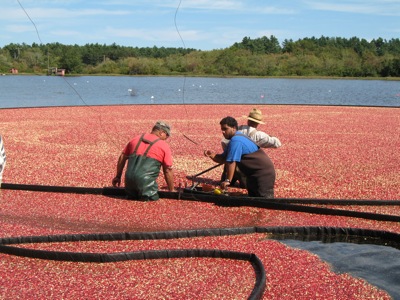 Much of the holiday fare brought to local tables Thanksgiving Day has been raised in the area one time or another. And that includes the tart red fruit American Indians once called "ibimi" or "bitter berry."
Dutch and German settlers called the plump berries "craneberry" after the shape of the plant blossom which resembles the beak of a European crane. Others called them "bounceberries" because the test for freshness is their ability to bounce.
Cranberry Prairie, a small community in southern Mercer County, draws its name from the cranberries that grew there abundantly before swampy areas were drained to provide fertile farmland.
Early settlers who collected ripened berries for jams, desserts and even wine, are now part of the rich history that has been handed down from one generation to another.
"What's with the cranberries?"
That is the question Jeff Meiring poses on his family blog site called "Cranberry Notes A Family Reunion."
"Besides being one of my favorite pop/rock groups and that cranberry jelly looking stuff we all eat during the holiday season, the one thing we all have in common is that our (family's) American ancestors came out of Cranberry Prairie," he says. "Regardless of our last name or where we live today or where we grew up yesterday, we all have our common roots in the cranberry bogs of Mercer County, Ohio."
The Ohio Historical Society erected a commemorative marker in 1999 along Fort Recovery-Minster Road, a stone's throw west of St. Francis Catholic Church, to salute the history of the area as well as its early settlers.
"The Cranberry Prairie, southwest of this marker, is a part of Ohio's natural history," the bronze marker notes. "The place was named for the cranberries that grew in a swamp here prior to drainage of the area."
The fertile prairie was created by centuries of peat accumulation in a late Ice Age lake that formed at the base of what geologists call St. John's Moraine.
By the 1860s, immigrant German farmers began to transform the swamp into fertile farmland. "Wild Bill" Simison, a legendary inhabitant, lived in the swamp and settlers respected him for his knowledge of the area.
Buildings sprang up at the edge of Cranberry Prairie as the cranberry bog disappeared. By the turn of the 19th century, they included Granville Township School #7, a spired church and Bertke's Store.
Historians admit collecting cranberries during the 1800s was a difficult task. Pickers likely wrapped strips of cloth around their fingers to protect against cuts and scratches from the vining plants. They crawled across the matted plants on hands and knees to pluck the bright red berries. Years later pickers used handheld scoops and rakes with wooden teeth to effectively comb out the once elusive fruit.
Today, one has to travel to states like Wisconsin, Massachusetts, New Jersey, Oregon or Washington in order to witness cranberry harvests. Wisconsin and Massachusetts compete to see which state produces the most fruit each year.
Bettyann's Tours, which operates in and around Plymouth, Mass., takes visitors into cranberry fields during harvest time - late September to mid-October. Many of the farms are associated with the Cape Cod Cranberry Association and provide berries for Ocean Spray and A.D. Makepeace, a local processor.
Crews, clad in hip boots and rain gear, flood the cranberry beds to a depth of several inches and then bring in water reels, mechanized devices commonly referred to as eggbeaters. Moving through the field at approximately two miles per hour, the spinning wheels churn the water and knock berries from the vine.
Ripe berries float to the surface thanks to tiny air pockets beneath their skin. The water is quickly covered with a sea of red, pink and white fruit. Workers move in corralling the crop into smaller and smaller spaces with the aid of foam-padded bumpers. Using long-handled screens and scrapers, workers push the berries toward a submerged vacuum that sucks them onto conveyor belts, removes extraneous plant material and drops them into waiting semitrailers.
"It's easy to see which farmers are harvesting," the tour guide says. "All you have to do is follow the trail of water along the road."
Cranberries harvested via the wet method are used for juice, jelly and other products since the eggbeater action can bruise the skin.
This is the time of year when fresh cranberries show up in supermarket produce departments. These berries are obtained through dry harvesting. Rubber-tied machines literally walk across the unflooded fields combing the fruit from the vines and dropping it into attached sacks. Filled sacks are placed in crates that will be lifted onto trucks by helicopter.
So when you reach for a hearty helping of cranberry sauce or a slice on cranberry cake this season, remember to celebrate a bit of Mercer County heritage.