Wednesday, December 12th, 2007
Dense fog leads to multiple accidents
By Margie Wuebker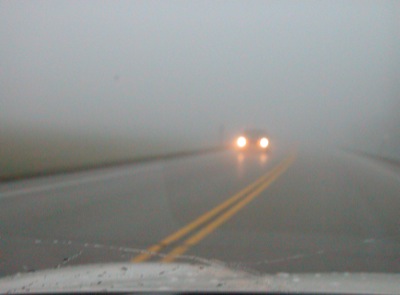 Dense fog descended over Mercer County on Tuesday afternoon making travel difficult for motorists and causing multiple accidents in the process.
"We were insanely busy between 2:30 and 4 or so," Mercer County Sheriff's Chief Deputy Gery Thobe told The Daily Standard. "We kept getting accident reports one after the other."
Multiple accidents involving a total of 10 vehicles occurred within minutes of each other at fog-shrouded locations south and southwest of Coldwater. Fortunately, there appeared to be just one injury.
The first multiple vehicle accident occurred at 2:43 p.m. at the intersection of Wabash and Philothea roads in Recovery Township. Cathy A. Link, 41, 2240 Philothea Road, Fort Recovery, was driving northbound on Wabash Road and intending to turn at the intersection. She stopped after missing the intersection and was preparing to back up when her 2003 Honda Accord was struck from behind by the 2004 Pontiac Grand Am of Megan E. Sudhoff, 17, 1275 state Route 219, Coldwater
Link's car came to rest in the east ditch while Sudhoff's vehicle stopped in the northbound lane, where it was rear-ended by an approaching 1995 Mercury driven by Curtis M. Heitkamp, 18, 3741 Wabash Road, Fort Recovery. The Heitkamp car also ended up in the ditch.
The second accident took place a minute or so later on Wabash Road, one-10th mile south of the Philothea Road intersection.
Judith E. Howell, 52, 1805 state Route 49, Fort Recovery, came upon the earlier crash and stopped her northbound 2006 Hyundai Sonato as did an unidentified male driver of a 1992 Buick Regal owned by Sandra R. Overman, 3955 Wabash Road, Fort Recovery. The male driver got out to check on the condition of people involved in the first crash and then returned. He reportedly got back in the car after hearing an approaching vehicle and tapped the brakes several times as a warning. The driver then jumped from the car and ran to the side of the road upon realizing the oncoming vehicle - a 1995 Ford pickup truck driven by Kylee L. Schlater, 19, 13216 U.S. 127, Rossburg - would not stop in time. A chain reaction crash ensued.
Sudhoff was taken by ambulance to Mercer County Community Hospital in Coldwater with non-incapacitating injuries.
Deputies and Fort Recovery Police completed accident reports while firefighters from Coldwater and the Southwest Mercer Fire District also responded to the scene. Tow trucks removed all the vehicles, which sustained moderate to heavy damage.
Deputies and Coldwater Police responded to another multiple vehicle accident at 2:44 p.m. in front of New Visions Medical Equipment, 4108 state Route 118, Coldwater.
Michael A. Avra, 27, 311 N. Wayne St., Fort Recovery, was southbound and struck the rear of a parked 2007 Freightliner semitrailer owned by Quality Leasing of Indianapolis, Ind. The unidentified truck driver, who is to be cited for parking on the roadway, told investigators it was too dangerous to make a left turn into a private drive for a delivery given the heavy fog.
The details of another accident resulting from the first were not available but it reportedly involved a FedEx truck and van or pickup truck.
"There was so much happening that we had to call two deputies back from the area of U.S. 33 and Interstate 75," Thobe said. "They were making prisoner transports to Lima and Toledo but those transports got canceled in a hurry."
The National Weather Service posted a fog advisory until 10 p.m. Tuesday but it was lifted three hours early when rain moved in dissipating the fog.