Wednesday, December 12th, 2007
Tougher school inspections to begin
By Shelley Grieshop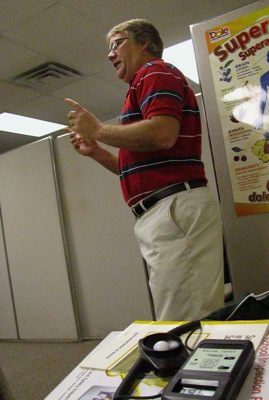 WAPAKONETA - With air quality monitors and light meters in hand, local health officials are about to begin a new, more detailed inspection of local schools, as mandated by law.
Auglaize County Health Department Sanitarian Curt Anderson explained to board members meeting Tuesday that the new regulations governing school inspections - Jarod's Law - require extensive inspections of school buildings and outlots including playgrounds.
"Our school inspections used to take about an hour," he said. "Now, they'll take about six hours, we figure."
The new inspection methods will begin locally in March. Sanitarians are meeting with school superintendents in January to explain the new procedures, he added.
Anderson and another county sanitarian recently attended a two-day training session to teach them more about the law and its protocol. He believes the new format is a move in the right direction, even though it is much more time-consuming.
"It used to be more of a sanitation type check, you know, checking the bathrooms and cafeterias, things like that," Anderson said.
Some of the many items that health officials now must inspect under Jarod's Law include the location of stored chemicals, the distance between idling school buses and entranceways, surfaces on playgrounds - even excess noise, which could "create hearing hazards or disrupt classroom instruction," the regulations states.
One of Anderson's biggest concerns under the new regulations is ventilation issues. Back in the 70s, some schools purposely decreased or cut off ventilation to certain areas to help conserve energy and save money. However, the practice will cause poor air intake readings that won't meet the new standards, he said.
Jarod's Law was passed in October 2005 and went into effect in Ohio on Sept. 27. The legislation was backed by the parents of Jarod Bennett, a 6-year-old who was killed when a mobile, 290-pound folded cafeteria table fell on him at an elementary school in Lebanon.
The law required the Ohio Department of Health to establish minimum inspection standards and procedures to help identify conditions within school buildings and on grounds that could be injurious to the safety or health of occupants.
In Auglaize County, approximately 30 buildings in 10 school districts must be inspected. Mercer health officials are responsible for nine school districts and centers, totaling 16 buildings.
The inspections now will be done just once per year, not twice as in the past, he added.
Schools must comply by documenting steps taken to maintain the new standards and correct problems. They also must cooperate with health officials during the inspections, which need to be completed during regular school hours. School officials will be notified at least one week in advance of each inspection.
Schools will not be fined or cited if they do not meet the new criteria. Instead, they must submit a written plan of improvement within 60 days of receiving the sanitarian's report, which is due to them within 30 days of the inspection. Immediate hazards will be dealt with promptly, Anderson said.
The state has provided each health department with about $1,000 worth of equipment, at no cost, to get the job done. However, to date, no extra funds or manpower has been provided to the local departments by the government for the additional duties.