Friday, December 14th, 2007
He's a Guitar Hero
Celina teen wins tournament for popular video game
By William Kincaid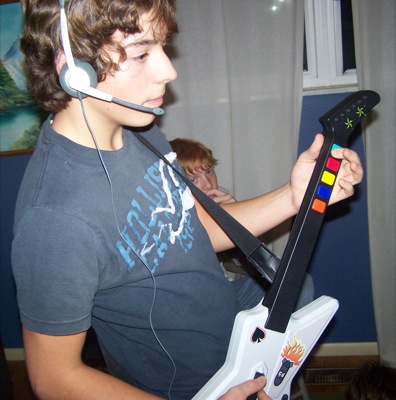 Guitar Hero is popular with children and adult gamers alike this holiday season but one Celina high school student has taken his skill at the game to a whole new level.
In fact, the plastic-guitar wielding sophomore Nick Flora has become so adroit at the game - which requires players to push a series of four buttons as color-coded notes from various rock songs flash across the screen - that he won a tournament against 50 other would-be guitar slingers.
"Wait till you see him play," Nick's mother Rebecca Flora said excitedly during an interview at their home this week.
Nick, who has played the game and its sequels for over a year now, said he finally found a local tournament at a video game store in Richmond, Ind., after searching the Internet for such local events. He said the tournaments are usually found in California.
After beating out the competition - excelling at songs by Guns N' Roses, Primus and Buckethead - Nick won the tournament and brought home a gift bundle with an exclusive gold-painted guitar controller, video-games, T-shirts and other goodies.
"They were booing him," Rebecca Flora said about competitors and their parents. "He's really good."
When asked if he will continue to compete in tournaments, Nick said "I want to ... I just have to find one." His mother suggested he hold one in their house.
The 15-year-old gamer, who plays Guitar Hero at least every day, got hooked on the game after trying it out at Game Stop, Celina, a year ago. He said "it doesn't get old," like other video games.
His older brother Chris jokingly pointed out that when Nick first got the game, he stayed in his room four hours playing it.
"That was before I had a girlfriend," Nick said in defense of his time-consuming hobby.
"He had to beat him (Chris) at something," Rebecca Flora said.
Nick's friend Austin Freeman openly admits Nick is better than him at Guitar Hero, but added he's more of a Halo III player, a game in which he is better than Nick.
Austin, who even developed blisters on his fingers from playing Guitar Hero, said he now wants to get a real guitar after playing the game.
Nick, as well as Chris, younger brother Michael, Rebecca and father Sean Flora, all enjoy playing the game as a family activity.
"Because they're interactive," Rebecca said about the positive difference between Guitar Hero and other games. "They're not just sitting there not moving."
Rebecca compared the addictive nature and popularity of Guitar Hero and its sequels - which are available on consoles Play Station 2, Play Station 3, Xbox 360, Wii and computer - to Super Mario Bros. 3, which was released on the original Nintendo Entertainment System in North America in 1990 - when retailers initially had trouble keeping the game in stock.
"I don't know how you do that," Rebecca said about Nick, who was dominating a game of Guitar Hero against an on-line opponent.