Friday, December 14th, 2007
Celina coasts to win over St. Marys on new mat
By Gary R. Rasberry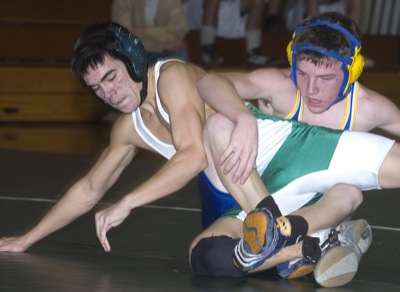 The Celina wrestling team christened its new mat in style, beating St. Marys 51-19 at Celina High School in Western Buckeye League dual match action.
The mat, adorned with the Bulldog head, was bought with help from the Celina athletic department, athletic boosters and Midwest Logistics.
The MatDogs held the Roughriders to just four wins out of 10 bouts in the match and Celina came away with seven pinfall wins.
"Pretty good night," said Celina coach Tim Dorner. "Had a lot of youth going in, I think they did too. We just out-got them on a couple of matches that could have gone either way."
Celina's veterans showed their mettle. Defending WBL 189-pound champ Steve Stoker pinned Brandon Russell in 3:47 while Tylor Thees took his 125-pound bout against Joel Knous with a pin in 1:27.
The other pinfall wins for Celina included Adam Cron, who needed just 61 seconds to pin Ryan Ruppert in the opening bout at 103 pounds. Josh Davis was in control of Zane Ginter at 140 pounds before scoring the pin at 4:39. Ben Sutter took the 145-pound bout, scoring the pin with 20 seconds left in the opening period to beat Devin Roseberry.
Sophomore Joe Braun picked up a major win at 152. Trailing 11-2 going into the third period, Braun reversed Keith Perry with 41 seconds left and got the pin with 34 seconds left. Derek Minch made it three MatDog pins in a row, taking down Grant Bronski in 1:49 at 160.
Also getting wins for Celina were R.J. Basket (7-2 decision over Kevin Falasco at 112), Cody Doner (13-7 decision over Sean Barnett at 135) and Mitch Miracle (4-2 decision over Nathan Brown at 215).
St. Marys got its wins from its veterans. Zach Hedrick put together a 13-2 major decision over Joe Bonvillian at 119 pounds. Jordan Price pinned Jake Meinerding at 130 pounds in a time of 4:42. Paul Lauth added five points with a 17-1 technical fall over Tyler Temple at 171 and Marcus Neal wrapped up the evening, scoring a 12-1 major decision at 285 over Cody Welker.
St. Marys coach Larry Gruber stated inexperience as the main symptom.
"Too many kids on the mat with inexperience, not being able to go six minutes," said Gruber. "That's all I can say. Kids we had on the mat that wrestled before and have experience were doing okay. They were competitive. We have seven kids starting for us right now that have no varsity experience. That's hurting us."
Celina took all three junior varsity bouts. Joab Cron beat Braedon Miller 8-6, Leo Olding pinned Charleston Powell in 1:24 and Josh Knouff pinned Tom Green in 34 seconds.
Celina travels to Elida on Tuesday for a WBL pool duals, featuring several other league teams. St. Marys will do the same on Thursday, traveling to Defiance.
MATDOGS SECOND - The Celina wrestling team placed second at the Coke Classic at Madison Comprehensive on Saturday.
Stoker captured the 189-pound championship for the MatDogs. R.J. Baskett (112) and Mitch Miracle (215) earned runners-up honors in their weight classes while Curtis Doner (103) and Cody Doner (135) earned third-place efforts.
Fourth-place honors went to Cron (103) and Thees (125) with Minch (160) and Braun (171) taking home fifth-place. Sixth-place awards went to Bonvillian (119), Davis (14), Sutter (145) and Temple (152).