Monday, December 17th, 2007
St. Marys halts three-game slide by topping Coldwater
By Gary R. Rasberry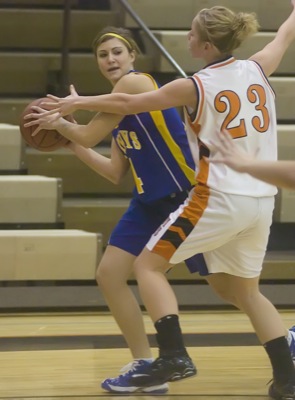 COLDWATER - Two teams that have struggled with offense battled it out at The Palace on Saturday.
Coldwater looked to have momentum going into the second half when Betsy Fisher's three-pointer bounced in before the buzzer, but St. Marys roared back to take a nine-point lead going into the fourth quarter.
The Cavaliers responded to get within a possession of tying the game, but the Roughriders used solid free-throw shooting to come away with a 48-44 win to break a three-game losing streak.
St. Marys is now 4-3 on the season while Coldwater drops its third straight game to go to 1-5.
St. Marys coach Tim Niekamp had visions of the Celina game, where the Bulldogs got a burst of momentum late in the first half and rolled to a win.
"We talked about it at halftime, it was a replay of the Celina game," said Niekamp. "I said 'You have to grow up right here.' They got the momentum at the end of the half. I knew when she (Fisher) picked it up at the top of the key, it was going in and we were going to be behind at halftime.
"I said 'Here's an opportunity to respond to a little adversity again. We're on the road, on their floor and fell behind at halftime. This is an opportunity. You've got to seize it. We don't have to change anything we're doing. We just have to do it a little better.' "
St. Marys responded quickly, taking over the lead for good 35 seconds into the half with a Kayla Thornsberry bucket. Coldwater missed shots or turned it over on its first five possessions of the half, allowing St. Marys to gain some momentum. St. Marys outscored the Cavaliers 14-4 in the quarter to take a 34-25 lead going into the fourth quarter.
"We had four possessions in the third quarter where we shot ourselves in the foot," said Coldwater coach Nick Fisher. "We had two turnovers and threw the ball away. Those four possessions were pivotal."
Coldwater responded with full-court pressure in the fourth quarter, something that St. Marys has had trouble with during the season. The Cavaliers' pressure began to work over the final quarter as St. Marys went three minutes without a point, allowing Coldwater to cut into the Roughrider lead.
"It's something we've worked on. We've worked on a couple of presses," said Fisher. "It's just confidence in our ability to run the press effectively. Our man wasn't doing a terrible job, but we thought some traps could create some opportunities. When we got down nine, we felt that was the time to do it."
Marla Hess' bucket with 51.6 seconds left made it 43-40, but St. Marys recovered with a Lea Mackenbach bucket seconds later. Hess got it back to three points with a pair of free throws before St. Marys hit three out of four free throws down the stretch to end the game.
"I was proud of the way that we kept fighting. It felt like we belonged on the floor," said Fisher. "Some of the games this year, we're not sure if we were there. I was proud of that. A step in the right direction."
Both teams had strong free-throw shooting performances. St. Marys was 13-of-17 (76.4 percent) with Erika Thornsberry hitting all eight of her charity tosses. Coldwater was more proficient, hitting 17-of-20 with Hess and Ali Wenning each going 6-of-6.
"I don't know what we were from the line for the game, but we hit some critical foul shots," said Niekamp. "You hit two of them, that's a real positive."
Emily Shellabarger led St. Marys with 13 points. Erika Thornsberry had 10 with older sister Kayla chipping in with nine.
Hess paced Coldwater with 13 and Wenning scored 10.
St. Marys returns to Western Buckeye League action on Thursday, facing Defiance at McBroom Gymnasium. Coldwater is off until Saturday, when the Cavaliers travel to Ottawa-Glandorf.