Monday, December 17th, 2007
Area residents get blast of winter weather
By Shelley Grieshop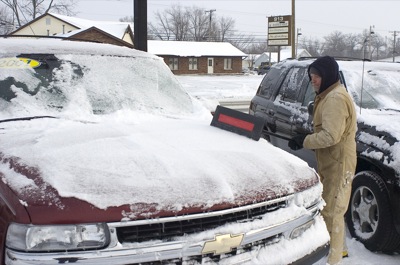 Despite receiving nearly 7 inches of snow throughout the weekend, no serious accidents or incidents were reported across the Grand Lake area.
Schools were closed today in the region and a Level 1 snow emergency remained in effect in Mercer County. The designation advises motorists to use caution on the hazardous roadways, particularly the less-traveled county and township roads.
Auglaize County does not issue snow emergency levels.
Although no serious incidents were reported, law enforcement officers in both counties kept busy and continue to investigate crashes.
"The deputies handled a good number of slide-offs this weekend, but only minor accidents," said Monte Diegel, 911 coordinator for Mercer County. "If we had gotten all that wind (40 mph predicted), it would've been a different ballgame today."
The National Weather Service (NWS) on Friday forecast up to 8 inches of snow and high winds for the local area, as well as the possibility of freezing rain and/or sleet. The latter precipitation came late Saturday but only for a short time.
The NWS posted winter storm warnings from Indiana to Maine. Parts of Chicago received up to a foot of snow and portions of the New England area were hit harder with approximately 18 inches of the white stuff.
At least six deaths have been blamed on the snowstorm including an accident that claimed the lives of an Indiana mother and her three daughters. Authorities said Batul Abbas, 47, of Hamilton County, Ind., was driving a van that slipped off an icy road and entered a pond north of Indianapolis on Saturday evening. The mother called 911 as the van submerged, officials reported.
The woman and the young girls - ages 8, 14 and 18 - were rescued and taken to a hospital but all later died, according to Carmel, Ind., police. The coroner's report listed the mother's cause of death as hypothermia/drowning.
Northeast Ohio, particularly the Cleveland area, received 6 to 8 inches of snow and high winds creating havoc on major interstates and closing numerous flights at Cleveland Hopkins International Airport.
The Browns vs. Buffalo Bills game was played despite blizzard-like conditions that made the action on the field nearly invisible at times to spectators.
Temperatures locally dropped from a high Sunday of 31 to a chilly 17 degrees this morning. Today's high is expected to climb to 25, according to local weather forecaster Dennis Howick. Highs are expected to remain in the 30s the rest of the week with a chance of rain and snow showers each day from Thursday through Saturday.
The wind could be the biggest problem on Tuesday as the temperature locally will feel like 8 below zero.
- The Associated Press contributed to this story.