Saturday, January 19th, 2008
Celina to offer dual enrollment
Students can earn high school and college credit simultaneously
By Janie Southard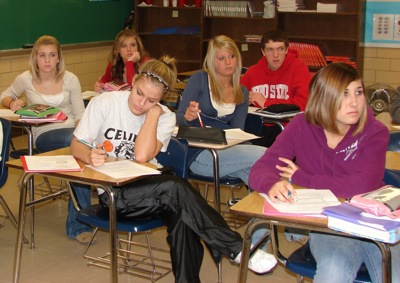 An opportunity for some Celina students to make the grade at two different schools is on the horizon at the high school.
It's a new program called dual enrollment to be offered in collaboration with Wright State University-Lake Campus this fall.
This will be the third advanced program available to juniors and seniors and Celina High School Principal Jason Luebke is giving it high marks in several areas.
"Dual enrollment will offer college-level courses to our students that will be taught by our faculty in our building during our school day," Luebke said recently.
"We expect to be doing (the dual enrollment) program in the fall with five schools in Mercer and Auglaize counties. We did a pilot program last year with Celina with 19 students enrolled in psychology which they took (at the college) in the evenings. It counted for both high school and college credit," said Greg Schumm, associate dean at the Lake Campus.
Schumm said the dual classes will meet the same academic standards as the college class version.
"Consistent with (Ohio Department of Education) requirements, the college agreed to participate in dual education. ... The difference from the pilot last year will be that beginning in the fall, the classes will be held at the students' home schools," Schumm said.
The public school faculty will be trained at the local college this summer if their degree and teaching experience align with the necessary requirements to join WSU-LC's adjunct faculty.
A very bright spot for parents is that success in a dual enrollment class means their student qualifies for a reduced college tuition for that class credit - $80 per credit hour, compared with Lake Campus's regular charge of $148 per credit hour.
Luebke is looking for a variety of course offerings that will complement the school's other two college-type classes. The current advanced class list includes chemistry, biology, calculus A and B, government, Art History and English. "I hope to offer additional options - for instance, another English course or physics," Luebke said.
Available for the past several years, the Advanced Placement (AP) program can provide college credit if the student ranks high enough on the end-of-course AP test.
Another program currently available is the Post Secondary Enrollment Option (PSO) where juniors/seniors travel back and forth between the high school and an Ohio university (usually WSU-LC) to attend classes.
"On the positive side with PSO there is no tuition charge from the college. But our students must physically leave our building, which is a concern. And, we do lose state funding," Superintendent Matt Miller said.
Schumm emphasized that the public schools will not lose funding. "That's another nice thing about the program ... The college will not receive any state funding," he said, adding another plus is that the college "credits will transfer anywhere."