Saturday, January 19th, 2008
Flyers' inside game too much for Fort Recovery
By Randy Bruns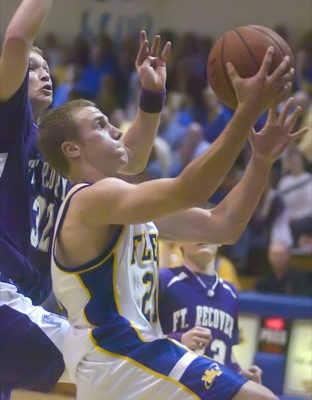 MARIA STEIN - It was the ultimate battle of contrasting styles Friday night at The Hangar, as the Fort Recovery Indians' perimeter marksmanship squared off against the pound-it-inside mentality of the Marion Local Flyers.
Mark this one up in favor of the horses in the lane.
The Flyers survived a barrage of late three-pointers by the Indians and knocked down just enough free throws down the stretch to hang on to a 54-51 victory.
Marion moves to 8-2 overall and keeps its Midwest Athletic Conference slate unblemished at 5-0, while Fort Recovery slips to 10-4 on the year and 3-2 in league play.
It was apparent from the outset what each squad wanted to do, as Clint Tobe nailed a three-ball to start the game and Marion's Jordan Winner countered with consecutive buckets from close range. Thus started a back-and-forth first half, with Tobe and Winner playing key roles for their respective teams.
Tobe drilled two more trifectas in the half to help the Indians build a six-point lead, but Winner broke loose later to score eight more points and keep the Flyers within two at halftime.
The third quarter offered more of the same, with Fort Recovery holding the lead most of the way before Marion's Troy Prenger knocked down a jumper from the wing to give the hosts their first advantage since the first quarter. Greg Kahlig drained a three before the buzzer, though, and the Indians took a two-point lead in the final frame.
Early in the fourth, the Flyers caught fire. A bunny by Winner tied things up and Tyler Obringer followed with consecutive layups to give the hosts their biggest lead of the game at 39-35. After an Indian timeout, the Flyer onslaught continued, as Chris Stucke, Winner, and Obringer all tallied buckets to stretch the lead to 10 points.
Then as quickly as the Flyers' lead was built, it went away even faster.
Kahlig dialed from long distance and Bobby Rammel followed with a pair of long bombs, and within 50 seconds the Indians had trimmed their deficit to one with just under three minutes remaining.
Marion later nailed five of its next six free throws to go ahead by three, but Tobe followed with a baseline drive to pull Fort Recovery within one with two and a half seconds left on the clock.
The Indians were then called for an intentional foul, but the Flyers went just two-for-four on their ensuing free throws. Kahlig uncorked an unbalanced 30-footer at the buzzer, but it hit the rim and bounced away to give the hosts the victory.
"I thought it was a well-played basketball game on both teams' parts," said Fort Recovery coach Brian Patch. "We were down 10 in the fourth quarter and it looked like they were ready to pull away, but then we bounced back and made some shots of our own. There were little runs throughout the game, and they finished off their run at the end."
Marion coach Keith Westrick was happy that his charges kept their heads when the game tightened up.
"I'm just please with the poise that the guys showed," said Westrick. "Even when they got our lead down to one there at the end, we were able to forget the fact that (Fort Recovery) had the momentum. They kept their composure very well."
Winner had a banner night inside for the Flyers, as he hit on eight-of-nine attempts on his way to 20 points. Stucke chipped in with 11 markers.
"I have a lot of respect for my perimeter players for how they were able to stay patient and find Winner inside," said Westrick. "Fort Recovery probably plays as good a defense as anybody around, and they switch it up all the time. I've seen several tapes on them and they've made people look very anemic."
Kahlig paced the Indians with 20 points and Tobe tallied 17.
"We knew they were going to try to pound the ball in there, and obviously they were able to do that," said Patch. "But overall I'm pleased with the way our club battled through things this week (due to injuries). It was a little tough this week but I'm pleased with our kids' effort."
Both teams return to action tonight against squads from Darke County, with Fort Recovery venturing to Greenville and Marion staying at home to host Franklin-Monroe.