Saturday, January 19th, 2008
Titans able to hold off Roughriders
By Ryan Hines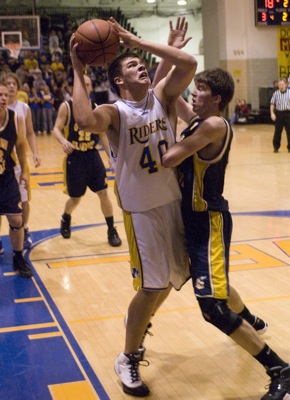 ST. MARYS - Ottawa-Glandorf had an answer for every one of St. Marys' comeback attempts and the Titans left McBroom Gymnasium with a 51-45 victory over the Roughriders in Western Buckeye League action on Friday night.
The Titans, coached by former St. Marys head coach Josh Leslie, improves to 9-4 overall and 3-2 in the WBL while the Roughriders slip to 1-11 on the season and 0-5 in league play.
Leslie was disappointed in his teams play, despite the win on the road.
"We didn't play very well tonight and, to tell you the truth, we feel fortunate to get out of here with a win," said Leslie. "St. Marys took us out of what we wanted to do and we never got the pace that we wanted. I was kind of disappointed in our effort tonight."
Coming back to McBroom Gymnasium, where Leslie is 2-0 with the Titans, is never easy according to the O-G coach.
"There's a lot of people that I enjoy seeing and talking with when we come back here, but it's the one game that I hate every year because of the fond memories that I have with some of the people in this place," said Leslie. "I'm just glad when it's over, to be honest with you."
Roughriders head coach Paul Sadler, who was an assistant under Leslie during his tenure at St. Marys, thought that the defeat was a step in the right direction.
"I thought tonight was a step forward for us, but it's still disappointing because we've battled with a few teams, but still come up short," said Sadler. "If we would have played like we did tonight against some of the other teams on our schedule, we would have more wins at this point. But it doesn't work that way. It was a step in the right direction, but it's still not what we want."
St. Marys even held the lead in the first quarter, 10-5, but the Titans responded with the final nine points of the opening eight minutes to take a 14-10 advantage into the second quarter of play.
Facing a seven-point advantage at halftime, the Roughriders come out in the third quarter with a deuce by Zac Martin and a trey by Michael Schmitmeyer to pull to within two points at 25-23. St. Marys' Tyler Menker could have tied the score at 25-all, but missed two free throw attempts and Ottawa-Glandorf took advantage of the missed opportunity by the Roughriders.
O-G's Taylor Pothast and Luke Bellman hit back-to-back short jumpers and then Colton Everett converted on a three-point play to put the Titans on top 32-23 forcing a St. Marys timeout. Taylor Kuhlman then drilled a trey for the Titans following the timeout capping a 10-0 run, giving O-G a 12-point lead, its biggest advantage of the night, at 35-23.
"When we get the pace going fast, we're pretty good and we did that in spurts tonight, but we didn't do it consistently and that's a credit to St. Marys," said Leslie.
St. Marys battled back, though, and pulled to within five points entering the final stanza as Tyler Menker helped spark a 9-2 run to close the third quarter for the Roughriders. Menker had five points during the run pulling St. Marys to a 37-32 deficit.
O-G went by as many as 10 points in the fourth quarter, but poor free-throw shooting allowed the Roughriders to get back into the game. The Titans shot just 7-of-18 from the charity stripe in the game, including just 4-of-12 during the fourth quarter.
The Roughriders got to within four points with 21 seconds left in the game, following a Jake Taylor three-pointer, but St. Marys came empty on its final two possessions before losing by six points.
Everett led all scorers for O-G with 14 points while Jake Meyer added 13 points. Cory Menker led St. Marys with 12 points while brother Tyler Menker added nine points and a game-high 10 rebounds.
St. Marys is back in action again tonight at St. John's.