Tuesday, February 12th, 2008
Celina resident rescued from burning home
By Janie Southard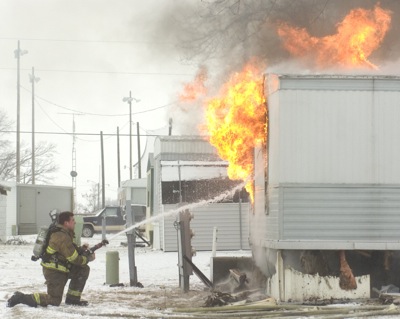 Ella Steele counts herself lucky that two men from down the street smelled smoke around 9 a.m. this morning and rescued her from her burning mobile home at Mercelina trailer park.
The 84-year-old was sitting at her kitchen table this morning when she smelled an odd odor.
"It was like that smell after you put out a candle. But I don't have any candles, so I started walking around the place trying to find the smell," Steele said from the safety of her neighbors' home across the street, while Celina firefighters fought flames at Lot 52 along Warren Street.
By the time Steele made her trip around her home, her smoke alarms had gone off.
About a block away, Lake Contracting employee Ryan Jones, 25, was outside the office clearing snow when he smelled smoke and followed the odor to Steele's doorstep. In his footsteps came another Lake Contracting employee, Dave Elking, 38, who went to the back door of the burning trailer.
Jeff Larmore, vice president of Lake Contracting, talked with the newspaper after Jones had been taken to the hospital for possible smoke inhalation.
"Ryan said when he got inside the trailer it was filled with smoke. He couldn't see her, but he could hear her screaming. He kept yelling for her to follow his voice.
"He finally got hold of her and pulled her through the smoke and then outside," Larmore said, adding Elking had gone to the back door and pounded in case Steele could make it out that way.
Still alert and talking, Steele took shelter at her neighbors' home and did not chose to go to the hospital.
"I know the fire did not start inside," Steele said.
Steele's daughter and some friends already had gathered around her at the neighbors' and all were remarking on her stamina and ability to deal with the situation.
"Well, my name is Steele," she said as she cuddled with her daughter, Pam Limon, who chuckled at her mother's spirit.
"We're gonna make it, Mom," she said.