Tuesday, February 12th, 2008
Bulldogs are WBL champions
Celina ends long drought by earning share of league title
By Ryan Hines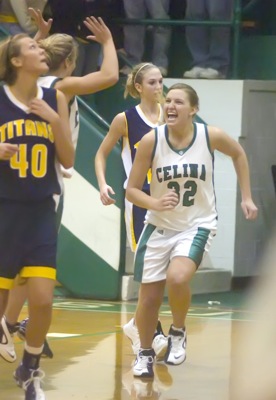 The Celina girls basketball team ended a 17-year drought on Monday night at the Fieldhouse.
Celina put four girls in double figures and held off Ottawa-Glandorf for a 52-45 win, earning the Bulldogs a share of the Western Buckeye League title.
It's the fifth all-time WBL crown for the Celina girls basketball program and the first since the 1990-91 season.
"Seventeen years is a long time and we have had some decent teams during that time span too," said Celina head coach Brian Stetler. "We had two regional teams during those 17 years, but no WBL titles. It was one of our goals that we began the season with and it's a tribute to these girls and their hard work that has gotten them to this point. I think that teams felt we would be competitive, but I don't think that many people really gave us a shot at winning the league this year. Again, it's a credit to the hard work from our girls to finish the league season the way they did."
Winning the WBL was a goal for Celina all season long according to the Bulldogs' lone senior Liz Homan.
"It had been such a long time since Celina last won a league title and it was something that we wanted to do since the beginning of the season," said Homan. "I always knew that this team had the potential to do it and we also had the will to win it too. We wanted it really bad after we lost to Bath."
Celina wrapped up the regular season at 17-3 overall and 8-1 in the WBL, good enough for a tie in the league standings with Lima Bath (19-1, 8-1 WBL). Ottawa-Glandorf (15-5, 7-2 WBL) is forced to settle for a tie for third in the WBL with St. Marys, a team that also beat the Titans.
"They (Celina) came out strong right from the get-go, but except for the final five minutes of play, I didn't think that we played very hard," said Ottawa-Glandorf head coach Lori Smith. "I didn't think that we took it to them and I didn't think that we carried out our gameplan. I just didn't think that it was a good effort on our part. Celina did what it needed to do to win and we didn't."
It was a strong effort for the Green and White as balance paved the way for Celina.
Candra Francis and Cenzie Yoder paced Celina with 12 points apiece while Homan added 11 points to go along with Cayla Hellwarth's 10 points.
"That has been the best part of this team all season long," said Homan about the balance for Celina. "There's no one selfish on the team, we play together as a team."
Celina shot a blistering 58 percent from the floor and limited O-G to just 33 percent shooting, including just 1-of-11 on three-point shots.
"Our defense is what we have built this team around and I thought that we played pretty good defense against a good team tonight," said Homan. "We live and die for defense and without a good defense, it doesn't matter what happens on offense."
With the score tied at 13-13 in the second quarter, Celina built a cushion with a 9-2 run, that was sparked by five points from Francis.
"The number 11 girl came out and hit a couple of big threes. We hadn't seen her hit threes all year and she hit two big ones in the first half," said Smith. "In big games people have to step up and she stepped up for them."
"I didn't play very well in the Bath game that we lost and I wanted to come out strong tonight and try to give our team a lift," said Francis, who scored 10 points in the first half of play. "We knew that they would double-down on our post players and our guards would have to be ready to hit some shots from the outside. It was that way all season long and it was again tonight."
O-G bottled up Celina's inside game, but the Bulldogs still led by six points at halftime.
The Bulldogs got their post players more involved early in the third quarter.
Homan and Yoder each scored four points to spark an 8-2 run to start the second half, putting the home team in control 35-23.
Celina hit all six of its shots in the third quarter and entered the final eight minutes of play with a 10-point lead, 39-29.
O-G battled back, though, with a more aggressive and intense approach and trailed just 42-40 with 2:21 left in the game.
Homan then made a nice drive to the basket for a deuce and Francis canned a pair of free throws to push the Celina lead to 46-40.
O-G's Brittany Kiracofe hit a tough shot to make it a four-point game, but Hellwarth drilled four free throws on one-and-one opportunities to put the Bulldogs up 50-42 with just 26 seconds left in the game.
O-G got no closer than five points over the final 26 seconds and Celina fans began to celebrate a WBL title.
"It's just so awesome because we've worked so hard to get to this point all season long and we wanted it so bad," said Hellwarth, who was battling a bad cold all week long. "We took it one game at a time all season long and came out with a win tonight. It's just awesome."
Celina earned a bye in the Allen East Sectional at the number-one seed and will open postseason play on Saturday at 8 p.m. against the winner of Van Wert/Wapakoneta.