Thursday, February 28th, 2008
St. Henry pulls off upset on top-ranked Liberty-Benton
Redskins will face Ottawa-Glandorf for district title Saturday
By Ryan Hines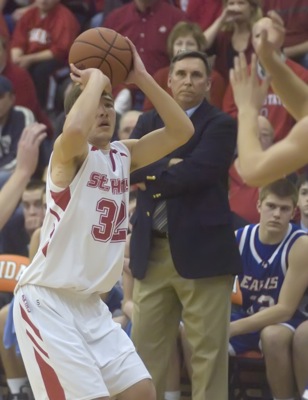 ELIDA - St. Henry pulled off the biggest upset of the Division III tournament on Wednesday night at the Elida Fieldhouse.
The Redskins used their size and strength to hand top-ranked and undefeated Liberty-Benton a 51-38 loss while Ottawa-Glandorf eliminated Parkway from the postseason, 72-59.
St. Henry (14-8) now meets O-G (18-5) for the district title on Saturday at 1 p.m.
St. Henry 51, Liberty-Benton 38
The Redskins flexed their muscles to give the Eagles their first loss of the season. St. Henry outrebounded Liberty-Benton 32-18 and scored nearly all of its points from inside the paint.
Guards like Jared Schwieterman and Brent Prenger continually got to the basket off the dribble while Darren Siefring, Spencer Niekamp and Tony Stahl gave the Redskins scoring options in the post.
Siefring was a force inside for St. Henry scoring a team-high 14 points with a game-high seven rebounds.
"Darren, particularly, has been a real force for us on the inside in the second half of the season," said Niekamp. "He's become more comfortable and we've done a better job of getting the ball to him. Tonight he was just a beast all around and helped us control the paint."
"I just came into this game and played my game," said Siefring. "We knew that we had a size and strength advantage inside and we did a good job of taking advantage of that."
Liberty-Benton had no answers for St. Henry's inside presence.
"We got killed on the offensive glass early and that helped get them out to their lead," said Liberty-Benton head coach Steve Williman. "They posted up and scored in the post, but they also got putbacks on rebounds and that put us in a hole."
The Eagles also had trouble attacking St. Henry's 1-2-2 zone as Liberty-Benton shot just 11-of-38 from the field (29 percent).
"I think that we did a very good job on defense and limiting the looks that they are used to getting," said Niekamp. "I didn't think that we could hold them to their final point total that they got, and there were other circumstances that helped lead to that, but I thought that we played with great defensive intensity."
Likely all-Ohio player Aaron Craft, who battled foul trouble for much of the game, led all scorers with 17 points but his wing men of Andy Smith and Derek Recker combined for just nine points on 3-of-16 shooting.
"We couldn't make a perimeter jump shot and that allowed their zone to expand a little bit and we didn't attack it like we should have," said Williman. "St. Henry caused a lof of our problems, give them credit."
Liberty-Benton grabbed an early 4-0 lead, but St. Henry went on a 17-4 run over the next five minutes for a 17-8 advantage. Siefring powered the Redskins' run with eight points.
St. Henry took control of the game with a 10-2 run to start the second quarter leaving the Redskins with a 27-14 advantage. Liberty-Benton never got closer than 10 points the rest of the way as the Redskins went up by as much as 19 points during the fourth quarter before coasting to the win.
Ottawa-Glandorf 72, Parkway 59
Facing a four-point halftime deficit, Ottawa-Glandorf switched from their man-to-man defense and went to a zone in the second half due to Parkway's inability to shoot consistently from the perimeter.
Parkway, which shot 33 percent from beyond the three-point arc for the season, hit just 2-of-22 (9 percent) against O-G's zone.
"Usually we hit a better percentage than what we did tonight, but we just struggled shooting from the perimeter," said Parkway head coach Doug Hughes. "I thought we had good looks, but we just couldn't hit them."
Ottawa-Glandorf is primarily a man-to-man defensive team, but head coach Josh Leslie felt it was necessary to go zone with Parkway's Jordan Thompson and Zach Bates controlling the paint.
"We don't play a lot of zone, but we basically went all zone in the second half because they weren't making perimeter shots and they were killing us inside," said Leslie. "We felt we had to play zone to try and control their inside game of Thompson and Bates. They are better shooters on the perimeter than what they showed tonight, but they just had an off night, luckily for us."
Thompson and Bates posted strong in the paint and hit the boards hard to give Parkway a 29-25 advantage at halftime.
Once O-G went zone, Parkway leading scorer Josh Fisher couldn't find the touch on the perimeter going 1-for-10 on three-point attempts. Fisher finished with a team-high 20 points, but went just 8-of-23 from the floor.
The Titans had no answer inside for Thompson, who scored 19 points and had 13 rebounds, to go along with nine points and nine rebounds from Bates.
Parkway was down 23-18, but took a four-point lead at halftime thanks to an 11-3 run to close the second quarter.
From that point on it was all O-G as the Titans outscored the Panthers 47-30 in the second half. Parkway was 11-of-23 shooting in the first half (48 percent) but just 12-of-38 (32 percent) in the second half of play.
NOTE - Tickets for St. Henry's district final contest on Saturday at Elida will be on sale at Gels IGQA and St. Henry High School office today and Friday and then on Saturday at Gels IGA until 9 a.m. Adult tickets are $5 and student tickets at $4. All tickets at the door are $5. Game time is 1 p.m. and doors open at noon. Parking is $2.