Thursday, February 28th, 2008
Zumbalicious way to burn calories
By Margie Wuebker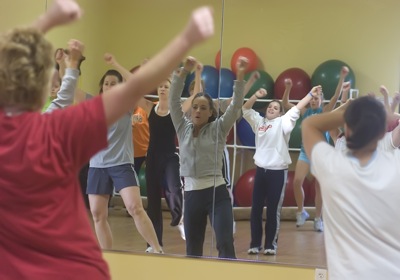 Zumba - a fusion of Latin and international music with body sculpting movements and easy to follow steps - has people dancing all over the area.
It's the latest fitness craze, says Dianne Uhlenhake, fitness coordinator at the Auglaize/Mercer Counties Family YMCA near Celina. She first bought a Zumba (pronounced zoom-bah) video back in 1999 because the combination of lively music and dance steps like salsa, merengue, cha-cha, hip hop and mambo looked downright enjoyable.
"I guess I had too much on my plate back then," Uhlenhake says of why she didn't introduce the class until recently.
The YMCA introduced Zumba in October at the north and south branches. Uhlenhake's first class drew eight to 10 participants, and sessions now have up to 18 students with more on a waiting list.
"Everybody likes to dance," says Deb Orick, owner of Totally Fit in St. Henry, which began offering Zumba last summer. "Zumba combines the best of both worlds - a good workout and music that makes you want to move."
Orick launched the program in June after hiring certified instructor Jenny Bruening and after earning her own certification.
Dianne Hart and Jeannie Giere decided to try Zumba because they had grown tired of treadmill workouts and wanted something different.
"The music is awesome," Hart says, relaxing after one of Bruening's one-hour sessions on a Saturday morning. "This is so much more fun than other forms of exercise that we look forward to coming."
Bruening and Orick use a combination of recommended choreography along with their own touches. They also vary the music from Latin tunes to popular songs such as "I'm Bossy" to an occasional country hit like "Save a Horse, Ride a Cowboy."
"It's a lot like dancing with your friends at a club," Deb Lange says after class. "But you don't have to get dressed up to do it."
Bruening, a personal trainer and dietetic technician, says she wants to offer an all-male class at some point. Her fiance enjoys dancing at home, but hesitates when it comes to entering a room filled with women.
Celina resident Bob Lochtefeld has no qualms about being the lone male in the YMCA's Wednesday night Zumba session.
Lochtefeld, who exercises to keep his diabetes and high blood pressure under control, has few problems as he twists, dips, shimmies and shakes to "Rock This Town."
Celina friends Marceil Schmidt and Rosemarie Vantilburg admit Zumba is helping them keep their New Year's resolutions to get more active.
"We're moving it one day and feeling it the next," says Vantilburg, a grandmother five times over. "The two of us get lost from time to time so we just improvise. It doesn't matter as long as we don't stand still."
Celebrity fitness trainer Alberto "Beto" Perez stumbled upon the concept of Latin-inspired fitness in his native Columbia during the mid-1990s. After realizing he forgot his music for one of his aerobic classes, he went to his car and retrieved the tapes he regularly listened to containing traditional merengue, salsa and flamenco music. He combined the music and aerobic moves and Zumba was born, according to www.zumba.com.
"Zumba is fun and classes are more like dance parties where folks can burn up to 600 calories an hour," Uhlenhake says. "It really is the way to go."