Friday, February 29th, 2008
Wii ♥ therapy
By Shelley Grieshop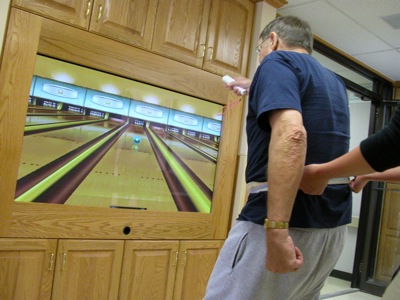 ST. MARYS - Alice Kittel's hand wraps tightly around the white Wii remote as the fingers on her other hand push the buttons like a video game warrior.
With a hospital therapist beside her, the recent stroke victim raises her arm toward the 5-foot-wide television screen and watches her imaginary bowling ball take a disappointing curve to the left.
"The back swing is good for me, I really feel it in my shoulders," she says, as she slowly brings herself back to a straight position in her wheelchair.
Kittel of New Bremen is trying out a new type of therapy at the Inpatient Rehab Unit at Joint Township District Memorial Hospital in St. Marys. Therapists at the hospital are encouraging their patients to use the popular Nintendo Wii, which is finding its way into rehabilitation centers and nursing homes across the country.
Most Wii video games require use of the whole body, balance and hand-eye coordination as players operate a remote and/or a second controller called a nunchuk. Gamers hold onto the controller(s) and simulate their "Mii" player on the screen by throwing a bowling ball, batting a baseball or imitating whatever activity is being played.
The beauty of the Wii, as therapists see it, is that most patients with injuries or illnesses can participate and benefit from the challenge.
"We can modify the games to whatever the patient needs," says Amy Wellman, an occupational therapist. "This is so good for motor coordination. It also uses a lot of cognitive (skills) to push the buttons."
Janet Wolford of Spencerville is recuperating from a total knee replacement surgery, and for the first time in her life she is bowling. It was the last thing she thought she'd be doing while in the hospital, she says with a grin.
"It's interesting and fun, a bit more intriguing than I thought it would be," she says.
Her opponent is Celina resident Carl Dirksen, who recently suffered a head injury. Although golfing is his true hobby, Dirksen appears a pro as he scores a spare nearly every frame. He's a bit unstable in his gait, so a therapist follows closely behind him as he makes a full approach to the television screen.
The therapists say their patients are getting much more than a workout with the Wii. It's a psychological boost, too, they believe.
"When they're doing something fun, they tend to forget about their pain and anxiety. It really takes their mind off it," Wellman says.
The Wii remains a hard-to-find item in stores. Hospital officials were on the lookout for one for months before 11-year-old Derek Moore of Delphos decided to donate his Wii system to the hospital's transitional unit. The youngster's mother is a nurse manager at the hospital.
Occupational therapist Shawn Kill, the obvious gaming guru of the therapy department, says he'd like to obtain a soon-to-be released Wii game that involves riding imaginary ski boards and whirling hula hoops. It could be a real aid to his patients who need help with peripheral vision and balance.
Kill says he wouldn't be surprised if Nintendo began developing games geared exclusively for rehab patients or anyone challenged with disabilities. Then it dawns on him that his idea could be a successful marketing plan and perhaps he's in the wrong business.
"Maybe I need to talk to somebody about this," he adds with a laugh.