Friday, February 29th, 2008
Coldwater trio off to strong start
By Gary R. Rasberry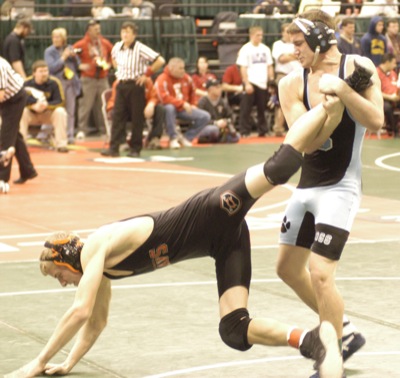 COLUMBUS - For Coldwater, it was the start the team wanted.
For Versailles, it was a quick exit for part of its contingent.
Coldwater seniors Tyler Kunk and Nick Uhlenhake won their opening bouts, earning a well-deserved break for the rest of Thursday evening at the 71st State Wrestling Tournaments at the Schottenstein Center on the campus of the Ohio State University.
Cavalier teammate Alex Uhlenhake lost his opener, but rebounded by winning his first consolation bout to move on to today's action.
The Versailles trio of Derek Oliver, Ethan Oliver and Mike Treon, however, had a rough start to the tournament, each losing their opening bouts. Treon was able to hold on for a win in his consolation match, but both Olivers were eliminated after two matches.
For Kunk it was a solid start with a 7-6 lead against West Salem Northwestern's Mat Schaefer after two periods of their 171-pound bout. However, before the third period, Kunk had to use his medical timeout to rehab his shoulder, hurt duiring the football season. Kunk rebounded, scored an escape to start the third and added a takedown to go up 10-6 before Schaefer got the escape and a takedown in the final seconds to close the final gap to 10-9.
"I went out there and wrestled my hardest," said Kunk, now 37-2 on the season. "You just have to go out and keep wrestling.
"You just have to keep attacking. You can't be satisfied with a two-point lead. I could have just stalled, but I tacked on a couple of more points to make sure, even if he does get a takedown, he will have to take you down twice."
Kunk faced Marion Pleasant's Spencer Adams in the championship quarterfinals this morning starting around 10 a.m. Adams scored an 11-3 major decision on Sandusky St. Marys' Max Dahs in his opening bout.
"You want to stay in the winner's bracket as much as you can," said Kunk. "The more you stay up here, the fewer matches you have to wrestle."
Nick Uhlenhake, 46-2 on the season, had a much easier time against Steve Woodord in the pair's 215-pound bout. Uhlenhake got a takedown immediately and worked backpoints off Woodford before getting the pin with 43 seconds left in the opening period to earn advancement in the next round.
"That was my biggest worry, my first match," said Nick. "Now I feel I can compete with these guys.
"Once I turned him, I couldn't tell you the feeling I had. I knew when I turned him (that it was over). It's unreal."
Uhlenhake faces Ontario's Brock Rickert in the quarters this morning. Rickert won 2-1 over Wyanedale's Jacob Beam in his opening bout.
Alex Uhlenhake had a rough start in his first action at state, facing Bridgeport's Bryan Skoff in the opening bout at 160. Skoff got ahold of Alex Uhlenhake and got a takedown, then turned him for the pin with 12 seconds left in the opening session.
In the consolation, Alex Uhlenhake faced Shayne Stewart of Mogadore. Alex Uhlenhake dominated Stewart in the consolation, getting the pin in 2:20.
"I knew (Skoff) was tough and he got the best of me," said Alex Uhlenhake. "I knew I had to keep going and move on with the other two."
The win made history for the Cavalier program as it marks the first time all three Coldwater wrestlers advanced to day two of the tournament
"That's a good thing," said Alex Uhlenhake. "That's great."
Coldwater's solid day allowed them an impressive start in the team standings, as the Cavaliers stand 11th with nine points after the first day. Marion Pleasant leads defending Division III champ Troy Christian by a 33 to 30 1/2 margin.
Versailles's day was not a strong one. Derek Oliver lost his 145-pound opening bout by getting pinned by Hopewell-Loudon's Lukas Shalck in 4:59.
Ethan Oliver, batting a sore hip, had the hardest luck of the Tigers. In a scoreless match in the third, Liberty Center's Chad McClory scored a takedown with less than 30 seconds left to get the 2-0 win over the senior 189-pounder.
Mike Treon dueled with Caldwell's Derick Hesson in the 285-weight class. The match was scoreless for the most part before Hesson got a takedown in the third period then turned it into a pin with five seconds left in the bout to send Treon to the consols.
Treon returned to face Bucyrus' Kody Charlton in the consolations. Treon was able to get a lead through the third period and was up 6-4 late. Charlton nearly got two back points in the final seconds, but could not hold Treon down for the required two seconds, allowing Treon to move on.
"I was a little more aggressive this time," said Treon. "Trying to get a win here. I need one more yet so I can get a place."
Derek Oliver's season ended in the consolations as Lou Leiby of Woodridge picked up a 7-3 decision to end Oliver's season at 34-10.
Ethan Oliver saw his senior year end with a 39-11 record after losing 11-8 to Kirtland's Tim Straus.
Both Alex Uhlenhake and Treon will await their opponent in the next round of consolations after the championship quarterfinals this morning. Action resumes at the Schottenstein Center at 10 a.m.