Tuesday, August 19th, 2008
Passenger goes to jail after fatal accident
By Betty Lawrence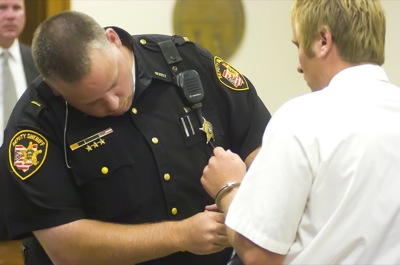 It was standing room only Monday morning in Celina Municipal Court when Kyle Schmitmeyer, 21, of 7915 Clover Four Road, was sentenced to 30 days in jail and five years probation on a charge of obstructing justice following a March 15 traffic accident in rural Mercer County that claimed the lives of four Maria Stein teenagers.
It was hard to find a dry eye in the courtroom as family members read victim impact statements prior to his sentencing.
"We are left to feel sadness and disbelief. How you acted that night makes me and my family sick," said June Heitbrink, the mother of Jordan Diller, who was killed that night. "You did not bother to check to see if anyone was alive and not once did you ask how they were. All you could think of was how you could get out of this. My family cries daily and my heart aches when we stop at his graveside to visit. This time last year we were helping him get ready for college."
Schmitmeyer was the passenger in the vehicle driven by Nick Schwieterman, 22, of Chickasaw, who allegedly ran a stop sign at the intersection of Brockman Road and County Road 716A. His vehicle collided with a vehicle driven by Jordan Moeller, who was pronounced dead at the scene. Also killed were Moeller's passengers - Diller, Brad Roeckner and Jordan Goettemoeller.
In early August, Schmitmeyer pleaded no contest to the obstruction charge, which stems from his demeanor at the accident site. He reportedly denied being in one of the cars involved and interfered with deputies during the course of their investigation.
"Kyle purposely misled the officers and continued to make false statements and many things happened as a result of his lies," Mercer County Assistant Prosecutor Matt Fox said during the court proceeding. "Test results were delayed and there was significant impact because of his lying. The reality is, he could have tried to do something to help, but he didn't."
Along with the 30-day jail sentence, Schmitmeyer was fined $500 by Visiting Judge Gary Herman of Auglaize County, who presided after Judge James Scheer recused himself from the case. The maximum sentence for the second-degree misdemeanor was 90 days in jail and a $750 fine.
Schmitmeyer also was ordered to have no contact with the families of the four men who died in the accident.
As part of the probation, Schmitmeyer must undergo alcohol/drug testing and is barred from visiting establishments that serve alcohol. If he violates any of these community control sanctions, he would go back to jail to serve the maximum jail time of 90 days.
Family members watched intently Monday as Schmitmeyer was handcuffed and led from the courtroom to start serving his sentence immediately.
Before he left the courtroom, Schmitmeyer had a chance to speak to the families.
With head bowed, he said, "It was a tragic accident. I am really sorry. I knew them and they were friends. All we can do is pray for them."
Most of the victims' family members who spoke said their sadness at the loss of their sons was compounded by the fact that Schmitmeyer failed to come to the aid of the others involved in the accident and that he lied to the police officers in an attempt to help just himself.
Choosing to stand and looking pointedly at Schmitmeyer, June Moeller, the mother of Jordan Moeller, said, "You lied repeatedly to the officers and your only priority was yourself. I am repulsed by your behavior and your actions are unforgiveable."
"How could you be so heartless," added Sue Roeckner, mother of Bradley Roeckner. "Our only son was in that vehicle. Why didn't you check on them."
The final family member to speak, Tim Goettemoeller, father of Jordan Goettemoeller, added, "We never got a chance to say good-bye. It's hard to imagine you didn't even have the decency to check on the other people in the accident. All you were concerned about was yourself."