Tuesday, August 19th, 2008
Celina slips past Elida 3-2 for a WBL victory
By Gary R. Rasberry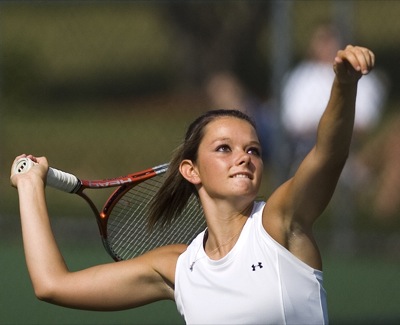 It was a wild conclusion for Celina's opening Western Buckeye League girls tennis match of the season against rival Elida.
With the series tied up at two matches each, it came down to second doubles, where the NetDog team of Abbey Feltz and Katie Pyle looked ready to cruise in the second set with a 5-2 lead.
Or did they?
The Elida team of Caitie Kales and Kassidee Fletcher rallied back to win four straight games to take a 6-5 lead. The Celina tandem regrouped to win the next game to force a tie-break.
Things even got wilder before Pyle and Feltz won the tiebreak 8-6 to win the second set 7-6 to give Celina 3-2 series win at the High School Courts.
"We were maybe a little lucky there at second doubles," said Celina coach Jan Morrison. "... We shouldn't have let them get back in, but we're glad to escape with the win."
Pyle and Feltz had a solid first set against Fletcher and Kales, winning 6-2 before jumping out 5-2 in the second set. Pyle and Feltz then had trouble finishing points, allowing Fletcher and Kales to roar back to life to first tie, then take a 6-5 lead with the chance to win and force a third set.
"I said to Ralph (assistant coach Ralph Stelzer) at 5-2 'Surely we can coast out.'," said Morrison with a laugh. "You never know."
Celina rallied in a back-and-forth 12th game, getting advantage before winning the next point to tie the set and force a best-of-seven - win by two - tie break. The NetDog team kept trying to shake off the troubles from earlier, forcing extra points in the tiebreak before winning.
The other Celina wins came from first doubles and third singles. The team of Kinzie Gardner and Sara Dorsten had little trouble in downing Emily Fernonder and Amy Sarno 6-2, 6-0 while in third singles, Shelby Decker downed Amanda Brickner 6-2, 6-1.
The top two singles players had tough days against solid foes. Amber Jaeger lost in first singles in matching 2-6 sets to Jesse Adkins, while Rachel Smith lost 3-6, 2-6 to Jessica Stambaugh.
Celina is back in action today, hosting Mansfield Senior in non-league action at 1 p.m.