Tuesday, August 19th, 2008
Fire causes extensive damage
By Betty Lawrence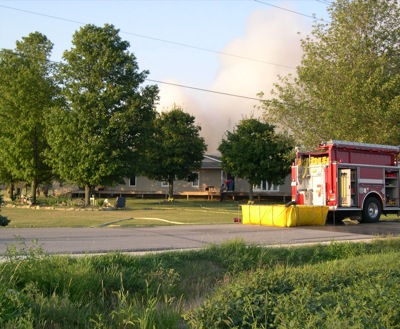 The cause of a house fire that caused heavy damage to the structure and its contents at 8010 Celina-Mendon Road on Monday remains under investigation this morning.
Approximately 40 firefighters and units from the Celina, Mendon and Rockford fire departments responded to the fire called in to the Celina department at 7:07 p.m. by a passing motorist.
"A neighbor spotted the smoke and alerted two teenage boys inside the home. They got out, along with their pets," Celina Fire Department Lt. Bob Schulte said this morning.
The fire started in the garage, Schulte said, noting it was through the roof by the time his department arrived. Firefighters remained on the scene until 11:45 p.m.
The home, owned by Kenneth and Danielle Elking, was insured. The monetary loss estimate remains undetermined this morning.