Tuesday, August 26th, 2008
Lack of rainfall begins to impact local corn, beans
By Nancy Allen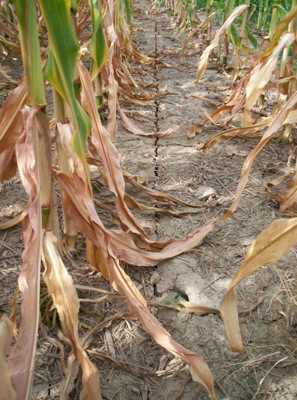 Local agriculture officials agree rain is needed and yields will be down this year, but the jury is still out on how great yield losses will be.
Due to rainy spring weather this year, planting was done at various times. Some crops got in early, some got in on time and some were late, so the local fields are at various stages of growth.
"Will it help the corn if we get more rain? It depends on the field," Mercer County OSU Extension educator Todd Mangen said Monday. "The corn that is still really green that got planted later, it will help, but earlier planted corn, it won't."
One corn field may look pretty bad and is in the critical stage, while another field just down the road doesn't look so bad, Mangen said. In general, any rain at this point would help soybeans more than corn, he said.
Last year Mercer County farmers experienced a similar dry period but miraculously, the crops turned out quite good. But last year's dry period occurred much earlier in the growing season, which helped plants grow better roots that were able to absorb the rain that finally came in early August, said Chris Gibbs, executive director of the Mercer County Farm Service Agency.
"This year is exactly the opposite. We had extreme wet conditions in the early growing season and now we have received no rain to fill this crop out in late July and early August," Gibbs said. "I'm not convinced we're going to see the same phenomenon we had last year by any means."
Better breeding and drought-resistant seed varieties also helped farmers a lot last year and may do so again, but local farmers won't actually know until they harvest their crops.
Gibbs said he predicts "measurable yield losses" for the area and with each passing day without rain, that becomes less of a prediction and more of a reality.
Celina area farmer Denny Eichenauer, who farms land northwest of town, said his corn is spotty this year due to a lot of water damage that occurred in early May. This caused him to replant about one quarter of his corn crop.
"I expect my corn yield loss problems as much from the rainy weather in spring as the lack of rain now," he said. "We're going to take a loss."
Eichenauer said he replanted some of his soybeans twice, so some didn't get in until the middle of June and they are just starting to form pods.
"If we get some rain, it may help fatten those out," he said of the soybeans. "My best looking beans are the ones I got in around May 5."
Dennis Howick, who farms land north of town and is also the local weatherman, said normal precipitation amounts for Mercer County are 3.5 inches for April, 3.64 for May, 3.86 for June, 4.43 for July, and 3.68 for August.
This year, the county received 2.08 inches in April, 1.95 in May, 6.94 inches in June, 2.82 inches in July and just 1.50 inches so far this month.
"The beans are faring better than the corn, but they're still hurt some, but I don't know how much," Howick said of his crops.
Howick was predicting scattered showers for today.
A new disaster assistance program available for the first time this year in the new farm bill could help local farmers with crop losses. The program will be discussed at the Sept. 4 agriculture breakfast meeting in the Central Services Building in Celina. The 7:30 a.m. meeting is open to the public.

Disaster Assistance Program:
What: Mercer County agriculture breakfast meeting to discuss a new USDA disaster assistance program.
When: Sept. 4, 7:30 a.m.
Where: Mercer County Central Services Building, first floor conference room, Livingston Street, Celina.